🚨JOIN the Poor People's Campaign for Moral Monday: Poverty (Un)Measured and hear from poor and low-income people, economists and faith leaders who will challenge the dominant narratives on poverty, a narrative that blames poor people for our situation, frames poverty as a racial issue to undermine multi-racial solidarity, and doesn't recognize the full 140 million and growing who live in poverty or are one emergency away from poverty.

***To see StreamText captions: www.bit.ly/PPC_2021 ...
Play
Working poor individuals and families all over this land filled with plenty...shame on America's legislative and executive branches of government for withholding justice, equity, and the pursuit of happiness.
Thank you for continuing to work to influence Joe Manchin of WV, showing financial 'lie' that $11/hr is enough.,, and to stop filibuster
Too many Americans without homes, clean water, clean air, access to broadband and telecommunications, land to grow healthy and sustainable food...
We the people are the social economic infrastructure
Gwen Brown 'here/ Boston Fight Poverty not the Poor.
We, the people Are the foundation of the infrastructure... Invest in Americans.. 12, 800 a year is not an acceptable wage!!!
People just don't want to understand because they are not living this type of life. Stop blaming folks for trying to do their best when society makes it harder. Why do people want to see more homeless by evicting?
Rich people don't pay for their luxury items but there repos don't hurt there credit standings. No one says you bought a airplane and didn't pay for it but credit is still extended to them.
Anushiik. Thank you from Ramapough Munsee Lunaape Nation.
Solidarity from the Mormon Liberation Theology Project.
The politicians make 12,800 in perks and free services.
I support equity and justice for all
84 % 84% 84 % 84 % 84% that needs to be repeated.
Arkansas in the House!👊🏾🖤🔥
WE ' STAND TOGETHER 'TALL IN SOLIDARITY.
America take off your blinders. See us all. "Live Life!" Much Love 💕
It isn't right. Those credit scores are holding people back. Who developed that system? My young adult children who are trying their best can't get an apartment or house.
Public Schools are full of Lead Paint and Pipes. Air Vents and ducts need to be cleaned before students and teachers go back to school! #BuildBackBetter
Somebody's been hurting our people and it's gone on FAR too long and we WON'T be silent ANYMORE!
Mississippi Thank you for sharing 🙏❤
A radical redistribution of wealth resulting in the end of our consumer capitalist economic system is needed. No more band aids.
My mind stayed on freedom!
There was a white Viet Nam vet on here Mary.
Hello Family☺💜💜💜💜 "FORWARD TOGETHER"
Thank you all for your hearts!
Load more
"We should be talking about what it takes to live in a dignified way. Not just meet your very basic needs — but to live and fully participate in our society." Shawn Fremstad #PoorPeoplesCampaign #MoralMonday #PovertyUnmeasured
Our vote, our wages, our healthcare, our infrastructure, and our voice are being blocked by an immoral filibuster. We join together to say, "DON'T FILIBUSTER DEMOCRACY!" #PoorPeoplesCampaign

Send your message here:
Call to Conscience: Don't Filibuster Democracy!
Join us in sending a message to the US Senate: Don't Filibuster Democracy! As regressive forces try to split us apart, we come together as people a...
actionnetwork.org
The U.S. poverty line has defined deprivation down over time, rendering invisible 100 million people who are poor or one emergency away from being poor.

An accurate poverty measure is a moral mandate.
#PoorPeoplesCampaign

Call your congresspeople: http://bit.ly/ppccallcongress
Twitter feed video.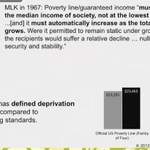 "I remember calling the 311 line to see what help I could get and was told over and over that there "wasn't much they could do" being sent from one overwhelmed and underfund organization after the next." - Erica Nanton #MoralMonday #PoorPeoplesCampaign @IllinoisPPC
Load More...