🚨JOIN US for International Women's Day Moral Monday as we highlight the work of poor & low-income women on the frontlines of the fight for COVID relief that includes a $15/hour minimum wage for all workers. Take action & call your Senators: bit.ly/ppccallcongress

***To see StreamText captions: www.bit.ly/PPC_2021 ...
Play
Rochester Poor People's Campaign on the main line..love. power and joy to all of our sisters in the struggle
We can seek all day but it must be moved.
Everybody has the right to live. The least our national and state legislators should approve for workers in America: $15/hour plus tips and benefits.
It is morally reprehensible that we have to fight for wages and benefits that honor the work and needs of people in this nation!
We must hold all elected officials accountable for wages that are not livable, not enough!
Policies that limit our lives and the livelihood of our local, national and global communities!
Banging pots and pans for low wage workers is not as honorable as increasing wages that are livable and comfortable to live and thrive!
Hard to celebrate with family and community are suffering!
We can say what's good, what's bad, what's nice and we don't need permission to say what we feel.
Go, Julia! You are a strong advocate for women's rights!
Much Love Rev. Letiah Frasier and the Kansas Poor People's Campaign: A National Call for Moral Revival family!🖤👊🏾🔥
Just called my Senator's office and wow- they were somewhat demeaning about the minimum wage and needs of businesses as more crucial.
Even if they raised it to 12 an hour that be good to but they dont wont us to make a disent wage
Nell Myhand, your voice and presence is powerful! Thanks for helping bring giants down and building community up!👊🏾🖤🔥
No one should have to work in those conditions
God bless all of you for all of the tremendous work you do!
Someone wrote "so u get tips" what is meant by that? Tips aren't enough, may help but tips get taxed. $15 is not enough because $15 gets taxed. No one lives on the gross.
Thank you Mother/Sister Maureen Michigan Poor People's Campaign: A National Call for Moral Revival!👊🏾🔥
We will not take no for an answer $15/h minimum wage. We are not done
We stand with you Alabama Poor People's Campaign: A National Call for Moral Revival!
I am not buying anything from Amazon Prime this week in solidarity of those wanting a union.
It's amazing how those with the least to give, give the most❣️. Bless you ladies 💕
If you want something done right, ask a woman of color to do it❣️
Happy Neighbors Day Moral Monday! Charles Taylor CEO/Founder/ EMILIA FREE FOUNDATION Emilia103@gmail.com
Maureen Taylor talks about poverty affecting little children of ALL colors, and that is right! Preach it my Sister! 🙏
Load more
THANKS to everyone who tuned in to today's #MoralMonday: Women on the Front Line! The voices of poor & low-wealth women at the frontline MUST be heard! #FightFor15 etc!

#PoorPeoplesCampaign #WomenLead #RespectWomen


'Others, such as @RevDrBarber, are less patient. The open letter in @thenation that he co-wrote told @VP: "Your actions will determine whether you are remembered alongside Harriet Tubman, Rosa Parks, Sojourner Truth, Ella Baker..."' @WaPoSean @CleveWootson
Harris caught between a restless base and a traditionalist Biden
As Harris seeks to build a political identity, she faces dueling pressures from impatient Democratic activists and a more methodical Biden administrat...
www.washingtonpost.com
"Before the pandemic, I was a tipped worker making $5 an hour. We all know that's not enough to survive ... We need to eliminate the sub-minimum wage and pass $15 an hour for all workers!"

@UNITEHERE_SoFla member Rhiana Ford, server at Delaware North, FLL

#PoorPeoplesCampaign
Twitter feed video.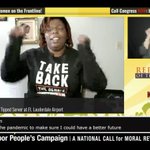 This #InternationalWomensDay the #PoorPeoplesCampaign remembers that 52% of women (5.4 million) & 60% of children (2.5 million) in #Florida are poor or low-income!

#WomenLead #FightFor15 #FightPovertyNotThePoor https://twitter.com/UniteThePoor/status/1369029015399505921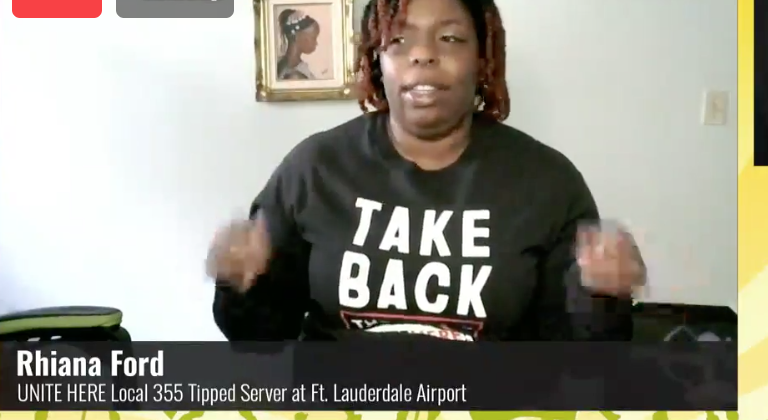 Poor People's Campaign
@UniteThePoor
I'm a tipped worker at Ft. Lauderdale airport. I make FIVE DOLLARS AN HOUR. That's BEFORE TAXES...I REFUSE to take pennies while people live in mansions. - Rhiana Ford
#poorpeoplescampaign #FightFor15 #march8th

CALL YOUR REPS: http://bit.ly/ppccallcongress
70% of the American people support raising the minimum wage to $15/hr. I think Democrats are really playing with fire here by delaying this vote. 65 million poor & low-income voters will remember in 2022, if they fail to fulfill their promise. #FightFor15 #PoorPeoplesCampaign
Twitter feed video.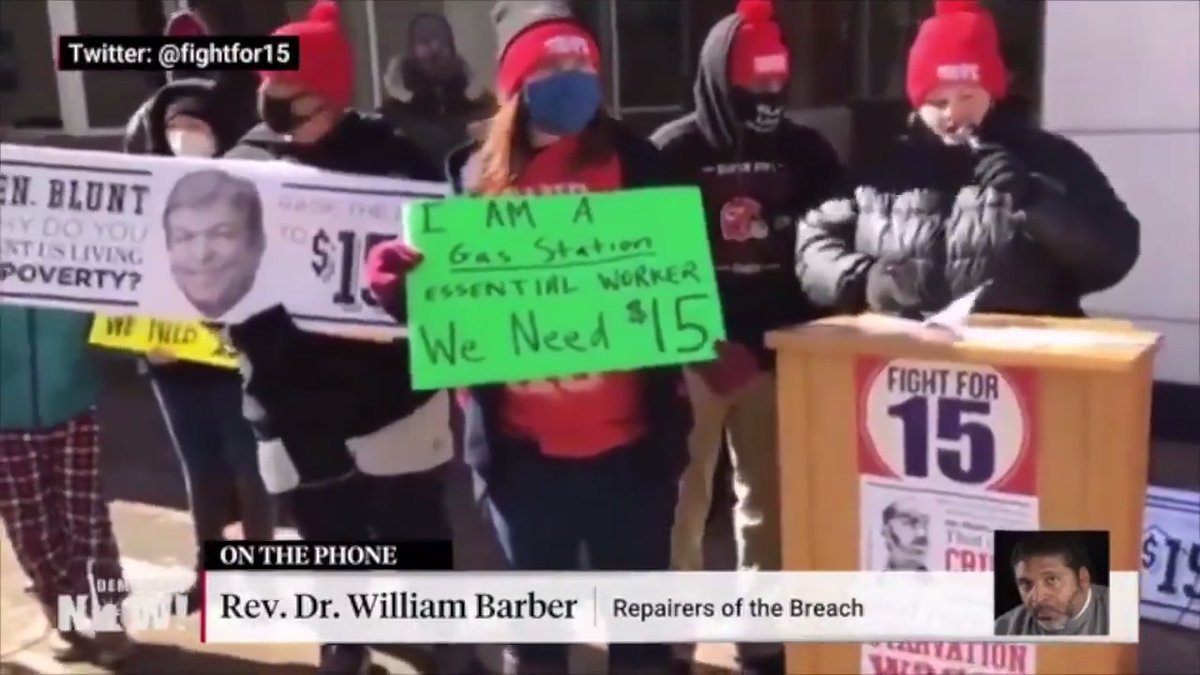 Load More...