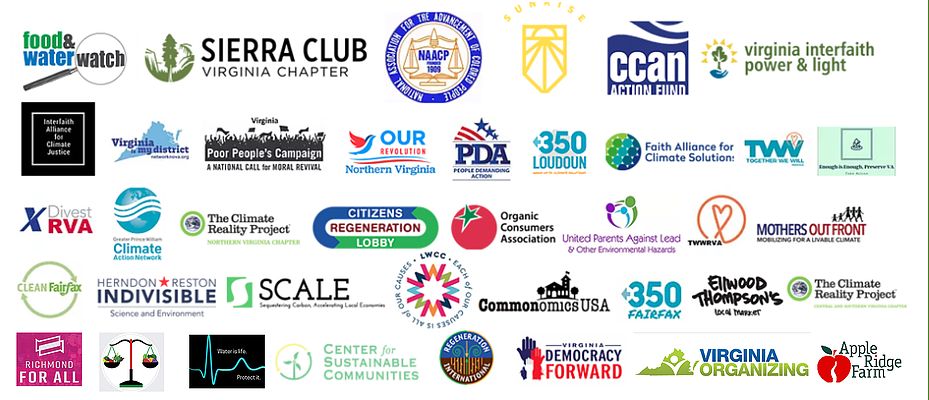 Delegate Sam Rasoul's bill represents a historic opportunity to address the climate emergency, poverty and social inequities. Today, Virginia moved one step closer to taking historic action to address the intersecting crises of the climate emergency, poverty and social injustice.
Delegate Sam Rasoul introduced the Green New Deal Act, HB 77 in the 2020 session of the Virginia House of Delegates. This comprehensive bill is part of a suite of bills developed by Green New Deal Virginia, a broad coalition of more than 60 grassroots organizations co-founded in December 2018 by Delegate Rasoul and Delegate Elizabeth Guzman. As the United Nations Intergovernmental Panel on Climate Change continues to warn that we have less than eleven years to reverse what is turning into a climate emergency, the Green New Deal Act is an opportunity for Virginia to provide solutions equal in scale to the problems that we face as a planet. It builds on a legislative initiative launched in January 2019, when 23 members of the Virginia House of Delegates co-sponsored House Joint Resolution 724 "recognizing the need for a Green New Deal in Virginia which promotes a just transition to a clean energy economy through lifting working families."
Throughout 2019, the Green New Deal Virginia coalition built public support and awareness of the fact that we are facing a climate emergency and that the climate crisis cannot be solved without also addressing economic and social injustices that are being exacerbated by climate change. In September, the Democratic Party of Virginia made history, endorsing the Green New Deal Virginia platform. Now the 2020 Virginia General Assembly, which has many new progressive members as a result of an historic shift of power in Richmond, has the opportunity to itself make history.
The Green New Deal Act is not just an environmental bill, although it certainly addresses the climate emergency. The Act recognizes that climate change is inextricably tied to the economic crises and social injustices suffered daily by working and poor families in Virginia. For that reason, the Act proposes real and practical solutions that will have a meaningful impact on the lives of everyday Virginians.
It includes:
· Clean energy mandates that require retail electric suppliers in Virginia to generate 80% of electricity from clean energy resources by 2028 and 100% by 2036, with penalties for suppliers equal to twice the cost of the investment required if they fail to do so.
· A moratorium on new major fossil fuel projects starting in 2021, including any new generating facility, export terminal or pipeline that relies on any fossil fuel resource or expansion of any existing such facility. · Development of a Climate Action Plan for Virginia by 2022.
· Establishment of minimum energy efficiency goals for buildings in Virginia that improves energy efficiency by 2.4% per year starting in 2020 and 36% by 2035.
· Development of robust job training programs to transition workers from the fossil fuel industry, including development of trade programs in high schools and community colleges.
· Strong labor protections for workers in the clean energy sector, including mandatory project labor agreements, prevailing wage guarantees, protecting the right to organize a union, transitional assistance and retirement benefits.
· Environmental justice protections for communities that historically have borne the brunt of environmental hazards, including requirements that funding for clean energy projects and conversion to renewable energy be targeted to such communities.
Karen Campblin, co-director of Green New Deal Virginia and Chair of the Environmental and Climate Justice Committee of the Virginia State Conference NAACP, a member of the Green New Deal Virginia coalition, lauded the introduction of this new legislation:
"We are in a climate emergency and, as always, African-Americans, communities of color, Indigenous Peoples, people who are low income and other marginalized communities are on the front lines. Virginia now has a chance to act boldly by supporting working families and communities that have been treated as sacrifice zones for far too long. The Green New Deal Act is a once in a generation opportunity to preserve the only planet we have for future generations, while making meaningful progress on improving the lives of people across the Commonwealth."
Lee Williams, co-director of Green New Deal Virginia and a member of the Sierra Club, Virginia Chapter, which is part of the Green New Deal Virginia coalition, also welcomed this new legislation:
"We are excited that Delegate Rasoul is pursuing this legislation. The climate crisis and inequity are the issues of our time. Our coalition has been advocating for the Commonwealth to prioritize and operationalize a clean energy economy while dramatically reducing all its greenhouse gases, not just carbon. As the world warms and our weather grows more extreme, we are heartened by Delegate Rasoul's bold legislation and we are hopeful that climate denialism and inaction are a thing of the past in Virginia.