February 23, 2021
Low-wage workers and advocates spoke out again for a minimum wage of $15/hour for all workers including subminimum workers, as part of COVID relief, along with healthcare for all, as Moral Monday zeroed in on two U.S. senators who don't support the increase within the relief package. 
The Poor People's Campaign and its state coordinating committees, in collaboration with SEIU, the Communications Workers of America and One Fair Wage, organized this week's Moral Monday program, which was held online and live in eight states and Washington, D.C. Low-wage workers targeted Democratic Sens. Joe Manchin and Kyrsten Sinema, who oppose the inclusion of $15/hour in the COVID relief bill. Manchin also opposes an increase to $15/hour from the federal minimum wage of $7.25/hour and has said he supports an increase to $11/hour over two years.
Participants were urged to call the offices of Manchin and Sinema and to write their own senators to support $15/hour and healthcare for all. In addition to events in Charleston, West Virginia, and Phoenix, Arizona, speak-outs were held in New York, New Hampshire, Illinois, Michigan, California, Florida and Washington, D.C., along with people who spoke online from Pennsylvania, Colorado, Maryland and others.
Matt Kerner, a former addict who now works with people in recovery, spoke outside Sen. Manchin's office in Charleston and called on him to be a hero for working people.
"Senator Manchin, low-wage workers across this country are holding their breath and praying that you will come through for them," Kerner said. "You have spoken of 2018 as your last election and whether or not that is true, it is obvious that you are not serving in the U.S. Senate because you had to have a job. You are there because a sense of service is part of who you are. Part of who most of us are is the dream of one day being a hero… You have a chance to be a real-life hero to millions of working families who you will lift out of poverty. The ball is in your hands, the clock is winding down and we are all on the edges of our seats waiting to see you drain your shot."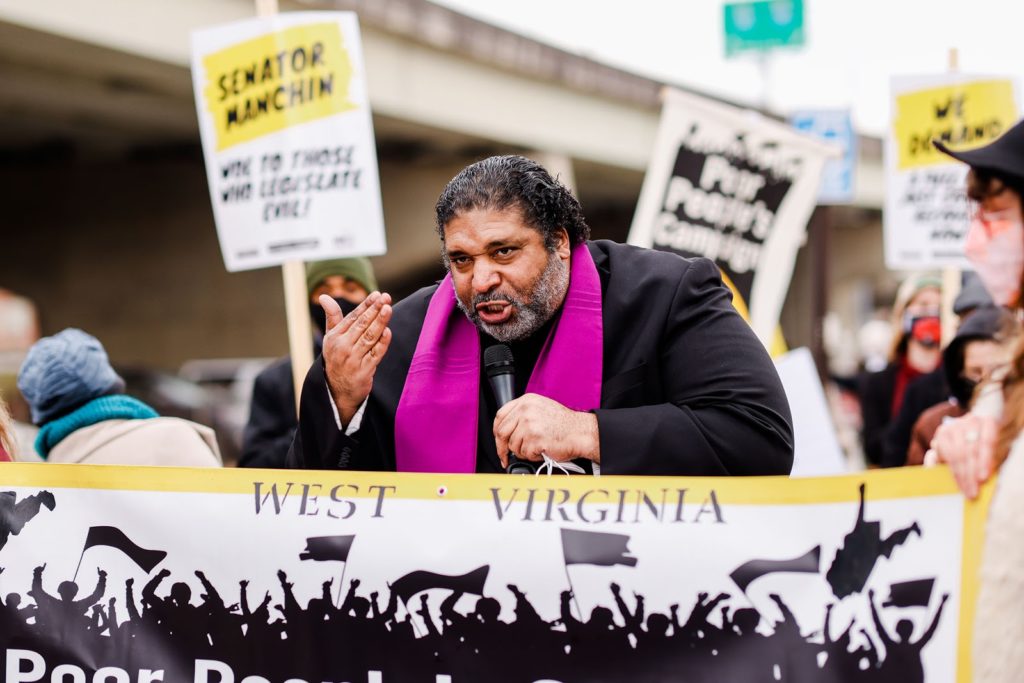 Rev. Dr. William J. Barber II, co-chair of the Poor People's Campaign, led the group of low-wage workers in front of Sen. Manchin's office. This Moral Monday was held days after the Poor People's Campaign met online with Manchin so he could hear the stories of low-wage workers who need a raise to $15/hour. 
"We must be clear that raising the minimum wage to 15/hour, full healthcare, full COVID relief is essential to lifting up those who have been hurt the worst in this society, those who have died first, those who got sick first, those forced to go to work first," Rev. Barber said. "They shouldn't be the last ones to get help. It doesn't matter to us whether they're white, Black, brown, Native, Asian, young, old, or whether they come from urban areas or whether they come from West Virginia, Appalachia, Alabama, we are God's children and it's time for this to change. This is our economic Selma!"
Rev. Dr. Liz Theoharis, co-chair of the Poor People's Campaign: A National Call for Moral Revival, emceed the online broadcast. She said Sens. Manchin and Sinema "are threatening to block justice, to block living wages and to block exactly why poor and low-income people turned out in record numbers to vote for candidates for the White House and Senate who promised to raise the minimum wage, to expand health care, to address racial injustice and systemic racism. And we can't allow them to block."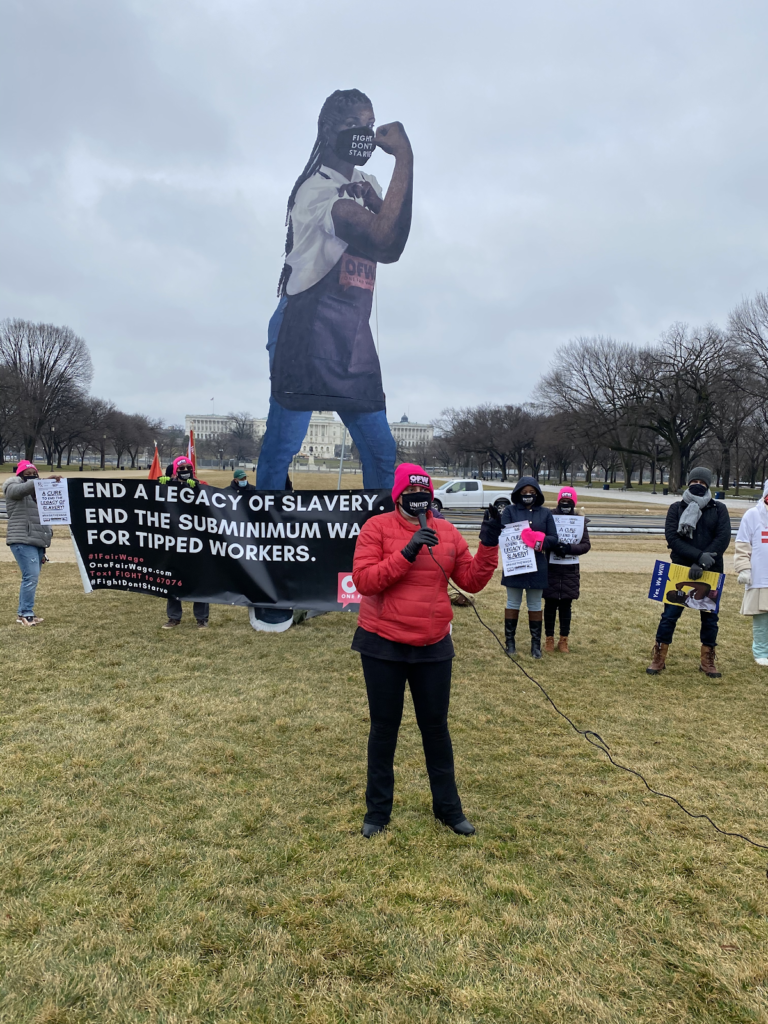 Haley Holland, a restaurant worker in Arizona, called on Sen. Sinema to support $15/hour in the COVID relief bill. 
"We will continue to fight in unity and fight to have a living life to be comfortable and not be scared and have anxieties over who knows what could possibly happen," Holland said. "It's not right. The senators need to show up, and she needs to show support and advocacy for this one fair wage and health care can for all.
Roberto Torres of New York City, who has worked as a room service server for 14 years, said he worries about health insurance since being laid off.
"While we know that our healthcare system leaves far too many people out, and we will continue to fight for health coverage for everyone, right now there are nearly 100,000 of my fellow union members and their families who are in danger of losing our health care in the middle of a pandemic if the relief package doesn't include full COBRA coverage," he said.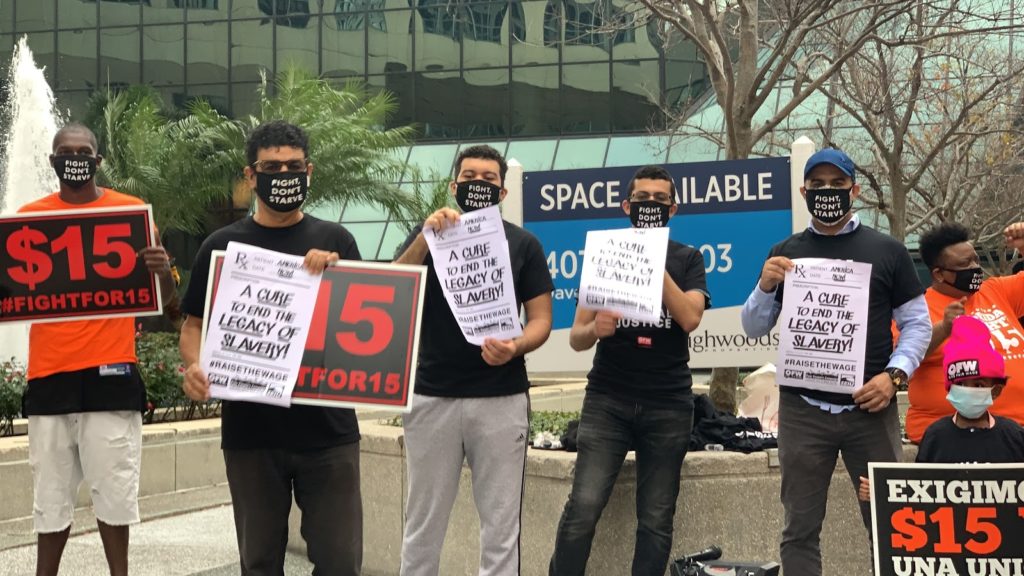 COMMENTS FROM OTHERS: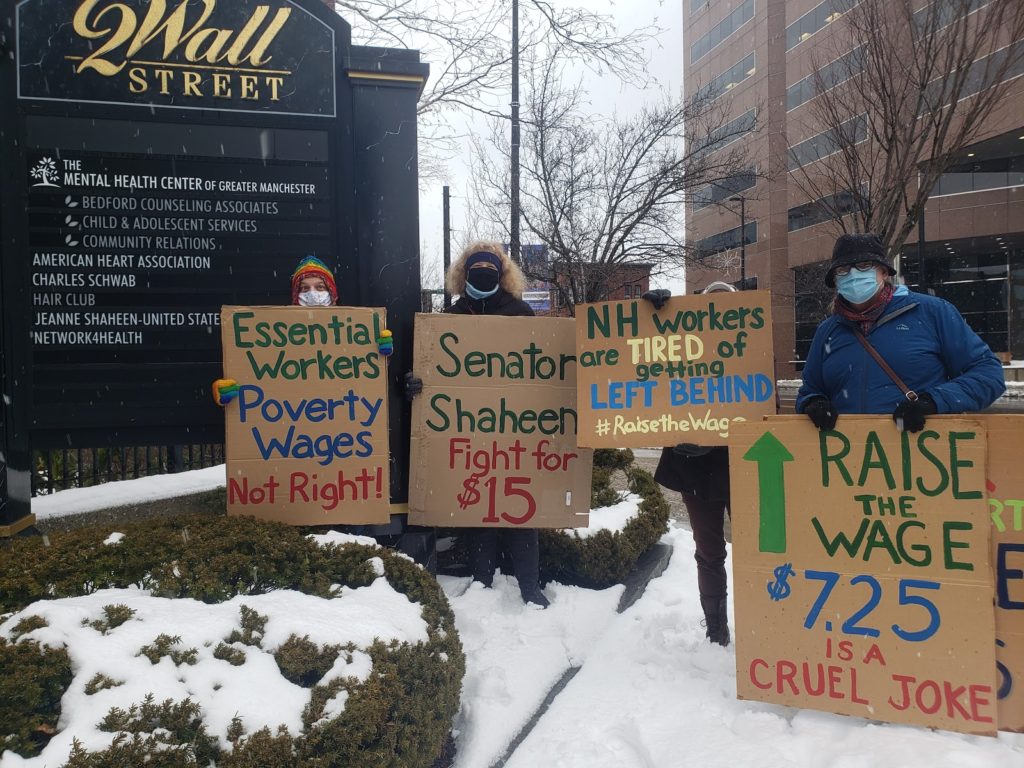 Sara Steffens, secretary-treasurer of the Communications Workers of America, said a minimum wage of $15/hour "would have a profound effect on many workers who are organizing with our union, including workers in the airline industry, at call centers, retail stores and banks. These frontline workers are on the job full-time for some of our nation's most profitable corporations but many are still paid poverty wages. Most of the people working these low-wage jobs are adult women who despite working full-time, struggle to support their families and their children. They have to have to make tough choices about which bills to pay. … And that is unacceptable in a nation as wealthy as ours. It is wrong. "
A bill that includes tipped workers is historic because there's never been one at the federal level that didn't exclude them, said Saru Jayaraman, president and founder of One Fair Wage.
Even before the pandemic, 14 million restaurant workers "struggled with the highest rates of economic instability and sexual harassment of any industry and with the pandemic," she said. "That became life-threatening because these workers were asked to enforce social distancing and mask rules on the very same customers from whom they had to get tips."
SEIU President Mary Kay Henry said the 2 million SEIU members are proud to stand with the Poor People's Campaign, the CWA and One Fair Wage "in demanding that our Congress take action to eliminate the sub-minimum tipped wage and to raise wages to $15 and to provide a union for all working people in this country."
Tonya Jackson of Hattiesburg, Mississippi, said she makes $11/hour at a Maximus call center, where workers help callers understand their healthcare insurance and where they are trying to organize with the CWA. "It's still barely enough with my extra job to supplement my income and make enough to support my family like I need to," she said.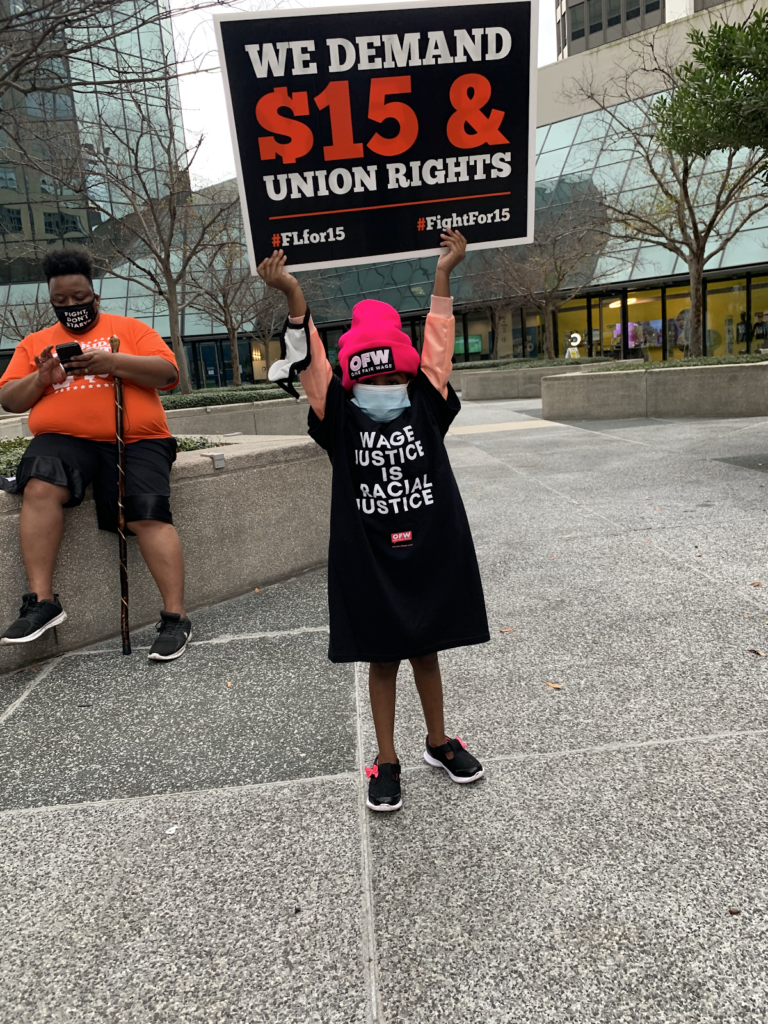 Pam Garrison of the West Virginia Poor People's Campaign said she has been a minimum-wage worker all her life. "And I don't want it to be generational. Our kids are working for minimum wage now. People on Social Security, we're supporting our young people because of minimum wage. They're paying $50 for a box of diapers. They're paying $700 and $800 rent, $350 for utilities. They cannot live like that." 
"Finally I feel there's real hope," said Latonya Jones-Costa, a home care worker in Atlanta, who said she earns $10/hour and doesn't have healthcare, paid leave or sick days.  "We finally have leaders who will take bold action on racial and economic justice. That starts with passing $15/hour minimum wage so many families like mine need."