This message is only visible to admins:
Problem displaying Facebook posts. Backup cache in use.
Error:
The user must be an administrator, editor, or moderator of the page in order to impersonate it. If the page business requires Two Factor Authentication, the user also needs to enable Two Factor Authentication.
Type:
OAuthException
Click here to Troubleshoot
.
Bishop William J. Barber II and the Poor People's Campaign: A National Call for Moral Revival join guest speakers and performers for the NAACP Legal Defense Fund rally at the Alabama State Capitol, following the conclusion of this week's Selma-to-Montgomery March. ...
Supporting you from Baltimore, Maryland! Thank you brave activists!
Shameful we still hold on to the statues and names of these evil humans
One of the biggest problems is that a lot of people still don't vote even when they are eligible to do so because they think their vote don't count or their is nobody worth voting for
What I found out most politicians don't care about the people but only care about the big corporations who give them campaign donations.I will be fighting against the big corporations that control most politicians and fight for the rights of the people who need help.
We need your support in Michigan. This is an assault on disabled people, the families, and care givers.https://www.michiganradio.org/health/2022-03-02/car-crash-survivors-who-died-after-losing-care-are-memorialized-in-service-at-lansing-church
Something to tune in to...
Labor leads today's Selma-to-Montgomery March with the AFL-CIO, AFSCME, UDW and MORE! ...
Thank you! Supporting you from Baltimore, Maryland, raised in Mississippi in the 1960's. You are awesome!
Woot! AL Coalition for Community Benefits is paving the way for the future of Alabama communities.
I meant the guy riling all of us up
A powerful black girl out of North Birmingham Alabama!
Thank you brave activists!
Damn, this guy gets me fired up! Haha
This long-time NATCA member supports you!
Peace & Blessings from #Missionary Baptist State Convention of Missouri #(MBSCM), #Rev. Dr. Linden Bowie, #President; #MBSCM MODERATORS DIVISION OF MO #(MDOM), #Rev. Dr. Nathaniel Griffin Sr., President and #Antioch District Missionary Baptist Association President Emeritus #(ADMBA), #Rev. Dr. J.B. Garris, #MBSCM #MODERATORS DIVISION OF MO (#MDOM) #Vice-President and #Moderator, #Antioch District Missionary Baptist Association #(ADMBA).
The unions are the backbone of our middle class! 🥰🥰🥰
Cheryl Fields Mrsfabulous
Robin Crawford is watching
Labor leads today's Selma-to-Montgomery March with the AFL-CIO, AFSCME, UDW and MORE! ...
Something is wrong withthe audio
PPC San Diego, California here
God Bless you from the Florida Keys🙏🙏🙏👍🇺🇸🇺🇸
Lord Yahweh in heaven help your children!✝️✝️✝️
Shalom means peace!✝️✝️✝️
Bishop William J. Barber II, joins the Memphis 7 workers Starbucks fired for union organizing, for a march from Benjamin L. Hooks Central Library to a press conference at the Poplar & Highland Starbucks store. ...
God bless you, Memphis Starbucks employees who were fired! Brave activists!
Thank you Reverend Barber! Supporting you from Baltimore, Maryland!
Watching from Riverview, Florida. Birthplace Tuskegee (Hardaway) Macon County, Alabama. Marching with a Purpose!
Hello from Cleveland Ohio For ward Together not one step back
They always tell you it's impossible until it happens: Nelson Mandela. Yes!
Poverty is a choice of politics, not choice of the people! Tell Reverend Barber!
Starbucks you better get your act together!
My dad was a union organizer at American Bosch in Mississippi in the 1950's. Hang in there!
Starbucks, you say you care about people, why don't you treat your employees right?
no repnse again on standing with poland u lie actions speak louder
Watching from Detroit!!! The workers shalt WIN!!!!!
Starbucks, treat your employees right!
Is anybody starting worker-owned coffee franchises?
Yes!! When we fight we win!!
Memphis workers, you are not alone!
What should we do in Bham
Right on, brave activists! Thank you!
States with labor unions have a higher standard of living and better quality of life. The Southern states are noticably behind the rest of the nation and it's partly because of its legacy of getting free labor which has evolved into opposition to unions.
Thank you brave activists!
Think of all the amazing things Black Americans could do if we weren't having to fight for rights all the time ...
…in solidarity. Tougaloo College Institute for the Study of Modern Day Slavery - listening in Jackson, Mississippi.
Thank you brave activists! Supporting you from Baltimore, Maryland!
I wish I was there! Power to the people!!
#FightForTheVote 👊🏾👊🏾👊🏾👊🏾#MarchOnBallotBoxes #OwnOurVote #ProtectOurVote #SanePeopleRunForOffices #SoulsToThePolls 👊🏾🕊👊🏾🕊
WATCH: Faith Leaders Congressional Briefing | Poor People`s Campaign https://twitter.com/i/broadcasts/1vOGwMnelgqxB
This fall we will vote like never before, because #OurVotesAreDemands. We will show up as poor people, low-wage workers, faith leaders and moral allies for a Third Reconstruction of our society!
Twitter feed video.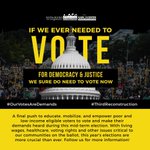 Poverty is a policy choice, not a personal failing. There are abundant resources, but they aren't going to what we need. We don't need corporations treated like people and people treated like things. We need a moral policy agenda that lifts from the bottom.
Since 2001, our government has spent $21 trillion on wars and militarizing our society. We could have used that $21 trillion for housing, public education, the expanded CTC, health care and our climate needs instead of a war economy that destroys our lives and our planet.
In 2021, over 19 states passed voter suppression laws that could impact as many as 55 million voters. These attacks would not be happening if there wasn't power in our votes. If we ever needed to vote for democracy and justice, we sure do need to vote now!
Load More...