WATCH: Clergy, religious leaders demand truth, transparency, accountability & justice for Andrew Brown Jr. ...
Play
The Seattle police have been under DOJ mandate for years with no substantive changes to their abusive behavior. DEFUND police and create resources to really keep communities safe and stop murdering BIPOC
Unite together for peace justice and equality regardless of colour sexuality or religion we are all one unite
No one should be killed by police
Say it! Do not turn away!
We have to keep the faith. Liberty, Justice, Truth, Honesty, Transparency
You have my support against suppression and the change to enforce non-supressing🙏 policies and laws!!!
Release the whole tape. No justice no peace.
Say that to we White Folx!
This grandmother is watching Elizabeth City. Release the tapes. Appoint a Special Prosecutor. Do the right thing.
Together we fight, together we win.
One NATION UNDER GOD must Restore the 10Commandments to Every Courthouse and Law Enforcement Agency... * Transparency is Extremely important because GOD Knows and Americas Treatment of the Black/Slave Ancestors of Plantation Owners and Our Posterity Prosperity have Been Violated and the Day B4 Mother's Day Ancestors of Descendants of Bondage are Dying like the Days of Past.. * Forgive Them Father for They Know Not What they do...(REPUBLICANS)..Father Forgive Those GOP leaders who Prey on the Past because the Path of the Future is Unknown and Known is what they continue to do.. * Women Probably Never Achieve or RECIEVE Their Reward Until HEAVEN...&..To See 👀 There Offspring Knocked Off!!! Before There Time... * I Hear Sirens and I Bet There's Not a Fire 🔥 But🔥 The Brimstone Burns Deep of/From the Past... * When The Church Comes Out for Blind Biases and Prejudice That Lies in the Hearts of Men That must Renew their Minds as Men of God...
Watching from Saskatchewan, Canada. We are the extended family; We are the resistance. Justice for Andrew Brown.💜
You have a live mike, tech crew
Shalom means peace!🙏🏾🙏🏾🙏🏾
Sad....still fighting for the same thing after all this time. SMH
Waste of time......the system only understands 2 things: blood and oil.....
Something has happened to volume
We need the police but we need to make changes in many police departments. There is a definite bias against the poor and people of color with many police departments. If a police office kills someone because they're scared or think a toy gun in the hands of a black child is a real one. When people who are shot in the back or killed when not presenting a danger that is MURDER.
FLORIDA needs to makethings right too. We need to get rid of evil doers.
The spirit of those who have died unlawfully sees you.
I wish I could be there. God bless you all there. I must go now. Stand strong with Jesus as your guide.
Lol......the government WILL NEVER CHANGE ITSELF. Does the snake stop biting because you ask, or even demand it? How do you stop a biting snake? And nonetheless, all those preachers following the same nonsense religion that was the KEY to stripping their people of their culture and identities. I guess its a thing of "cant beat em, join em".....
Load more
Along with many other organizations of the poor and dispossessed, the Kairos Center declares its solidarity with Abahlali baseMjondolo and joins the demand for freedom for #Abahlali leaders Mqapheli Bonono and Siniko Miya! #PoorPeoplesCampaign
Join us to discuss Ohio's Environmental Issues - Their Connection to Regressive Policies, Voter Suppression,
Anti-Protest Bills and the 5 Systemic Evils
Wednesday, May 19th 7PM
Register at

#PoorPeoplesCampaign
Welcome! You are invited to join a meeting: Ohio Environmental Issues - Connections to Regressive Polices. After registering, you will receive a confirmation email about joining the meeting.
Ohio Poor People's Campaign & Our Voices Together Present Ohio's Environmental Issues - Their Connection to Regressive Policies, Voter Suppression, ...
bit.ly
This week at the #FreedomChurch of the Poor we honor the pain, loss, and power of mothers and mothering in this movement. Join us this Sunday at http://FB.com/povertyinitiative! #MothersDay #PoorPeoplesCampaign
"When the evidence shows that police have wrongfully murdered someone there must be arrests & full prosecution and accountability." @RevDrBarber #AndrewBrownJr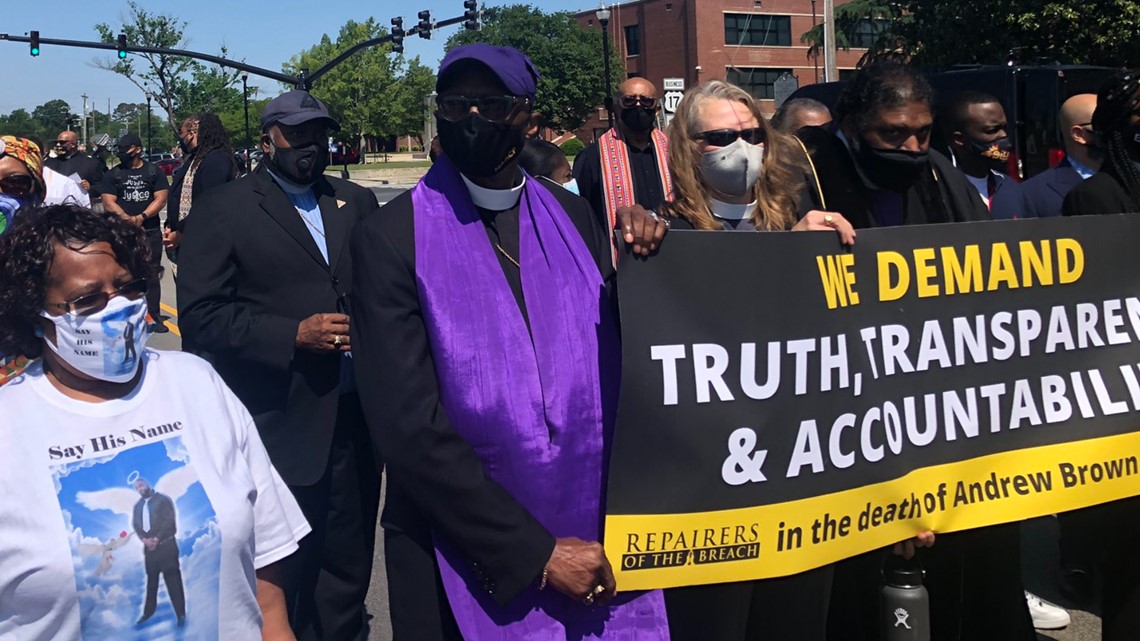 Faith leaders march in Elizabeth City, demand transparency in shooting death of Andrew Brown Jr.
The faith leaders are demanding truth and accountability in the death of Brown. They held a public rally outside the Pasquotank County Courthouse.
www.13newsnow.com
Congratulations to Jade Mazon & our @IllinoisPPC family! VICTORY for #EnvironmentalJustice and for the Southeast side Chicago neighborhood. PERMIT for General Iron/RMG has been SUSPENDED INDEFINITELY! #PoorPeoplesCampaign Read more: https://chicago.suntimes.com/2021/5/7/22425285/general-iron-joe-biden-epa-lori-lightfoot-permit-southeast-side
Load More...