October 6, 2020
Poor People's Campaign caravans in 10 states from California to the Carolinas protested at the offices of U.S. senators' offices, demanding that Mitch McConnell end both his rush to fill a Supreme Court vacancy and his block on a fair and just relief package.
Caravans protested in Kentucky, North Carolina, West Virginia, Mississippi, Oklahoma, Maine, South Carolina, Texas, California and Ohio as part of the Moral Monday Caravans & Digital March on the Senate on Monday.
Denita Jones in Dallas, Texas, listed some of the voter suppression tactics being used in her state: candidates suing to require people to drop off mail-in ballots on Election Day; and a governor who has ordered one drop-off location for ballots per county.
Rev. Dr. William J. Barber II, co-chair of the Poor People's Campaign, said those actions are proof of the power of poor and low-income voters.
"They want us to think that they ultimately have the power," he said. "Anytime somebody starts trying to keep people from voting and suppressing the vote, it's because they can't win a fair election. But it's also because they can't win an election where people turn out. They want us to be discouraged. They want us to think we don't have the power. … the reality is we have the power."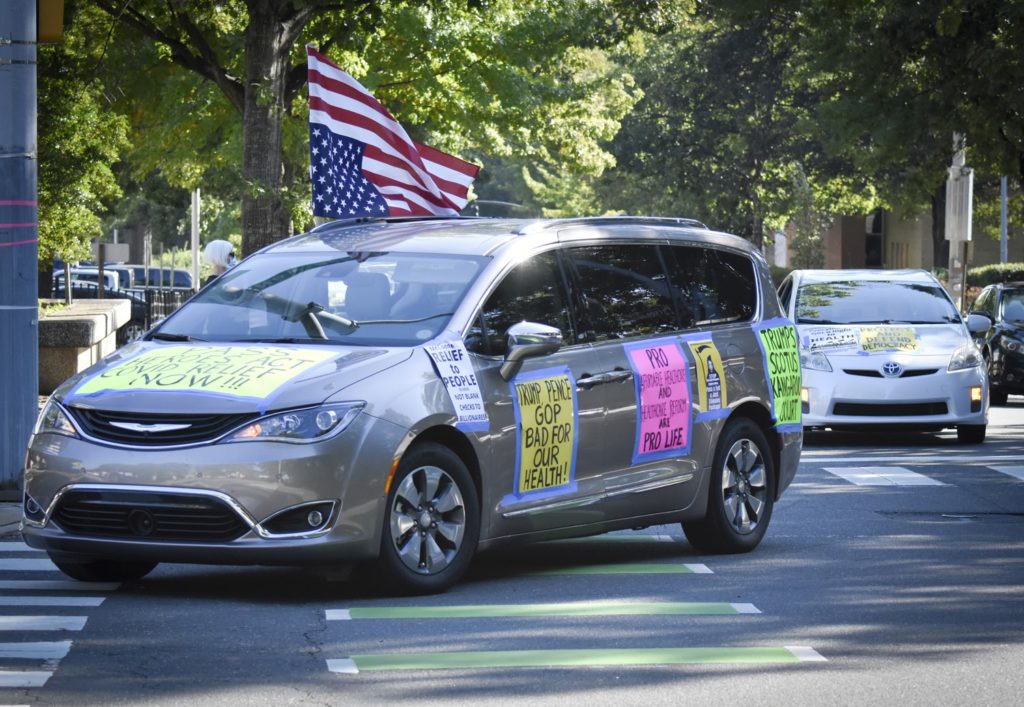 The Poor People's Campaign: A National Call for Moral Revival began the protests weeks ago as digital events as thousands of people flooded the phone lines of the offices of Senate Majority Leader Mitch McConnell's with demands for a fair stimulus. Two weeks ago, the Poor People's Campaign added caravans to the protests.
Activists circled McConnell's six offices in Kentucky with demands for a just stimulus and for a halt to the rush to fill the Supreme Court seat that became vacant with the death of Justice Ruth Bader Ginsburg.
Barber said a third of all voters are poor and low-income, and 34 million stayed home in the last election because they didn't hear their issues.
"But now what poor people are saying is we're not going to wait anymore to vote if we hear our issues. We're going to make them hear us," he said. "And part of the way we make folk hear us is by putting our vote, deciding what candidates we're going to be behind and then when they get elected, reminding them that we were there and then pushing them. And if our candidate doesn't win, we're going to still keep pushing."
The protesters were demanding that the Senate stop its sins: Stealing the Supreme Court, Stopping Police Reform, Suppressing the Vote, Sabotaging the USPS, Stopping COVID Relief Bills, Stealing Healthcare, Stifling Living Wages, and Separating Families.
The Senate "has the resources to be able to pass a just stimulus bill," said Rev. Dr. Liz Theoharis, co-chair of the Poor People's Campaign. " It has the power, it has the resources to ensure that we have a flourishing democracy, not an impoverished one like we have right now with the level of voter suppression. The Senate has the power to expand health care and to raise living wages. And that's why we're gathered here today because we are crying out that people have been hurting us for far too long and we aren't being silent."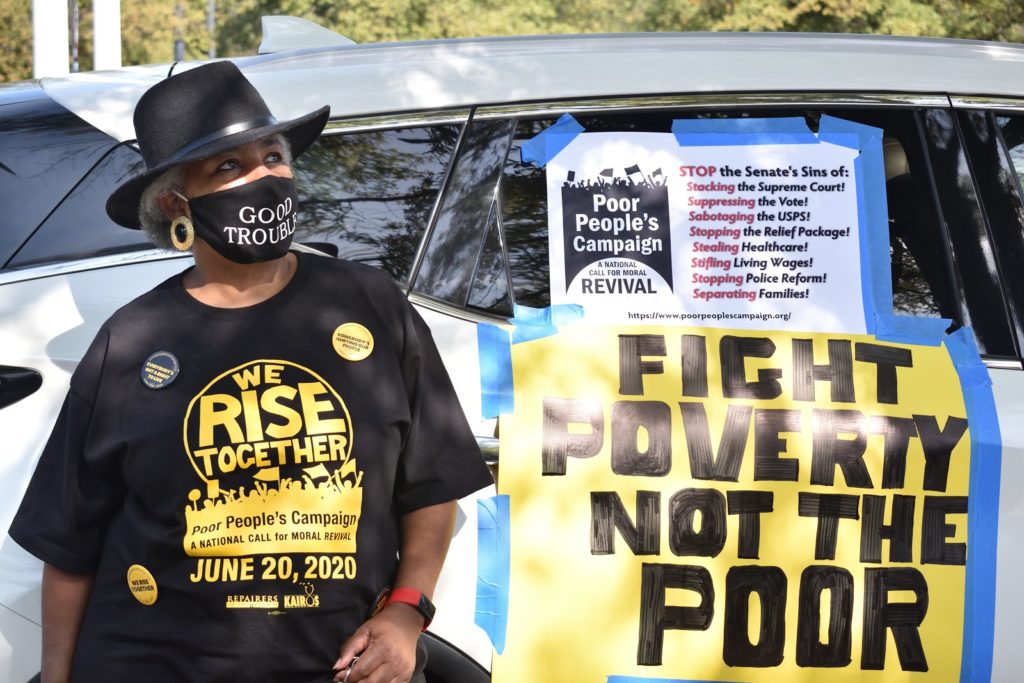 Johnny Wiliams said participants in Charleston, West Virginia, were there Monday to tell Sen. Shelley Moore Capito that Americans need a full stimulus package and health care — and that they intend to cast their ballots.
"We are informed. We are educated voters," Williams said. "Just like we're out here today, we're going to show up at the polls."
In Maine, caravans protested at the offices of Sens. Susan Collins and Angus King.
"We are out in front of the federal building calling on Senators Collins and King to provide relief for the people, not blank checks to billionaires," said Josh Kauppila.
---
CONTACT: Martha Waggoner: [email protected]