March 16, 2021
Poor and low-income people came out in 30 states and Washington, D.C., on Moral Monday, posting their demands at state houses and demanding a moral agenda for the country that includes voting rights, which is essential to making all other rights promised in this country a reality.
Jelani Coleman of Selma, Alabama, said he and his two brothers watched their mother, Gloria, work as a cafeteria worker to raise them, often choosing between paying the light bill or buying food.
"As I grew older I wonder what would life for us would have been if my mother was paid a fair and living wage," he said. "The powerful and well-connected continue today to try and crush the necks of those who are working 40 hours a week only to be paid a slave wage. Today, workers are not fighting for a fair wage they are also fighting for the right to vote. Our wage and our vote is our power. We will not let no one take our wage or suppress our votes."
The Poor People's Campaign: A National Call for Moral Revival, with co-chairs Rev. Dr. William Barber and Rev. Dr. Liz Theoharis, held in-person actions in 30 states and Washington, D.C., on Monday, followed by a national online program.
Poor and low-income people in Alabama, Arkansas, California, Delaware, Georgia, Illinois, Indiana, Iowa, Kansas, Kentucky, Massachusetts, Maryland, Maine, Michigan, Minnesota, Mississippi, Nebraska New Jersey, New York, North Carolina, Ohio, Oklahoma, Oregon, Pennsylvania, Rhode Island, Texas, Utah, Virginia, Washington, West Virginia and Washington, D.C., posted the 14 Policy Priorities to Heal the Nation: A Moral and Economic Agenda for the first 100 days.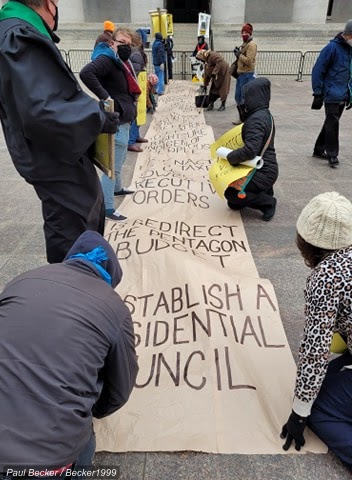 The actions came as voting rights are under assault in almost every state. The Brennan Center for Justice reports that as of Feb. 19, state lawmakers had carried over, pre-filed, or introduced more than 250 bills with provisions that restrict voting in 43 states. This attack comes as poor and low-income voters flexed their political muscle in the 2020 election, helping to elect leaders who promised to pass laws that lift from the bottom, including voter protection laws.
Voter suppression is so rampant that you can take any of the speakers and drop them in another state, and their story of voter suppression would still ring true, Rev. Barber said.
"This is a national problem; that's why we need national addressing," he said. "That's why we're going to have federal laws and sue in many states, not just based on race, but equal protection under the law."
Voter suppression "may have started in the South years ago but it's all over the country and it means they're scared," he said. "It means the extremists are scared and that's why they're working so hard to block these votes, and we're going to connect it to other issues."
Danielle Owens of Lewiston, Maine, a single mother of three who works 70 hours a week just to survive, said voting rights are inextricably tied to eliminating poverty.
"My children watch me work all day and night, at home during a global pandemic, making health care more accessible to front line workers, and the reward is that we aren't hungry all of the time. I sleep well at night knowing that all of this over time keeps my rent paid. No savings, no vacations, no luxury items. Just survival," she said. "Maine lawmakers need to hear the people and be an axis of change in this country. They must take up a moral agenda that commits to ending poverty, which begins with being honest about poverty, and securing voting rights for all.
Rev. Theoharis said poverty is on the national agenda for the first time in decades. That means voting rights must be protected to make sure the elimination of poverty remains in the national conversation, she said.
"We need living wages, she said. "We need voting rights and we must fight like hell for the very soul of our democracy. And so that's what we're doing here today. We're standing together to protect our right to vote, to protect our democracy and stand for a moral agenda."
OTHER VOICES:
Nicole Nevarez of Des Moines, Iowa, and the Iowa Poor People's Campaign. Iowa's governor has signed one of the first bills this year to suppress the vote.
"We should be encouraging citizens to vote and making it as easy as possible, not placing uncalled for restrictions on our voting process that makes it difficult and stressful. There are people who have to work, don't get time off to vote, and/or can't afford to lose an hour or two of wages to vote or the people who are disabled and elderly who find it a challenge just to walk out their front door, the rural communities that largely consist of elderly people and depend on church groups to mail their ballot for them. Why are Republicans 'fixing' a process that had more Americans voting last year than in the last 120 years?"
Neil Tellier of Grovetown, Georgia, an Army veteran and ordained minister. Georgia lawmakers are considering a voter suppression bill that not only restricts ballot access but also makes it a crime to provide water and snacks to people waiting in line to vote.
"When our ability to vote is hindered, our choices and voices are not being heard or addressed which is truly the end goal of this Bill and the over 100 other bills that were introduced to change how we vote and none for the better, here in the state of Georgia. … Sadly, this bill, if signed into law would not only make voting harder it would also criminalize volunteers handing out water and snacks to voters waiting in long lines, which again would disproportionately impact those whose jobs keep them late."
Seth Washington, student at N.C. A&T State University in Greensboro, North Carolina
"At North Carolina Agricultural and Technical State University, we are very familiar with
representation repeatedly seeking to silence us. We were victims to racial gerrymandering
which only due to our fight went all the way to the Supreme Court. … (Students) have an inherent duty to protect the community and the voices around us. If our votes and voices did not have power, people would not be trying so hard to take them away. And with the majority-minority slowly becoming less of the majority, what was formerly politically impossible, is now becoming politically inevitable; the revolution of America, where Bllack and brown people will become the majority and representatively, be leading the composition of legislative decisions."
Yesenia Chavez of Chicago, one of the first four hunger strikers to Stop General Iron from moving its polluting metal shredding business into their low-income neighborhood. She fasted for 25 days and the number of hunger strikers grew to 15 during the month as they continue to protest this environmental racism and ecological devastation.
"The decision to give up solid foods and initiate a hunger strike was an extreme measure, yes. Still, we knew following the processes implemented to purposely oppress us will not lead to revolutionary change. We decided to lead and uplift the voices of others along the way. Our kids and students keep getting asthma, and our residents keep getting sick, mentally and physically. What were we supposed to do?
"It is unacceptable for elected officials to remain silent on issues impacting vulnerable communities. Policymakers need to be responsible and understand the impact of postponing decisions, choosing to sit in silence, the impact of voting to table discussions, and the impact of following racist, classist and oppressive practices."
Debra Thomas, 42, of Jackson, Mississippi, Black mother of 11. She has been disenfranchised since 1998 when she was convicted of shoplifting — a first-time offense — at the age of 20 and sentenced to five years in prison.
"Since my conviction and release from prison, I have been denied access to low-income subsidized housing, which has made providing adequate housing for my family a serious challenge. The felony shoplifting conviction keeps me from being hired and making a living wage at any decent job that I qualify for. My luck with jobs has only been housekeeping and chicken plants, which tells me after making one bad decision in Mississippi, my life's worth is only good enough to clean up another man's trash. … I want to be able to make enough money to care for my family and not have to work multiple jobs to make ends meet. I want one day soon to be a resident with a voice and vote to count in the electoral process."
---
CONTACT: Martha Waggoner: [email protected] | 919-295-0802