We have no option but to organize, we have no option but to mobilize, we have no option but to register and educate people for a movement that votes. We cannot back down. Our very lives depend on it. The very soul of this nation depends on us. The current crises reveal that a moral fusion movement is necessary to transform the nation.
Join us for a cultural day of action on June 1st to let others know that somebody's hurting our people… it's gone on far too long… #WeWontBeSilent anymore! That we will rise together on June 20, 2020! And we declare that #EverybodysGotARightToLive!
Click below to download our Cultural Days of Action Digital Toolkit for virtual banners, songs, and signs to share:
---
Everybody's Got a Right to Live Music Videos
Everybody's Got a Right to Live has been a central message of the Poor People's Campaign since 1968 when the Rev. Frederick Douglass Kirkpatrick and Jimmy Collier sang it in Resurrection City. When we launched the Poor People's Campaign: A National Call for Moral Revival in 2018, we revived this song and used its power to connect our movement across the country during 40 days of moral fusion direct action. Jimmy Collier once said, "Music is the easiest way to tell the story of what we're trying to do; [our] songs are one of the best tools for getting people together." Theomusicologists and artists with the Poor People's Campaign created exciting new music videos of this campaign song for our June 1st Cultural Day of Action. These recordings highlight the beautiful diversity of our PPC movement family to share a powerful message of strength and unity during these trying times. Check out this collection of recordings and share on social media.
---
Everybody's Got a Right to Live Virtual Banners
Over 600 people in over 30 states and Washington, D.C. participated in our virtual group banner making! Click below to view a folder you can use to download and post a virtual banner on June 1st!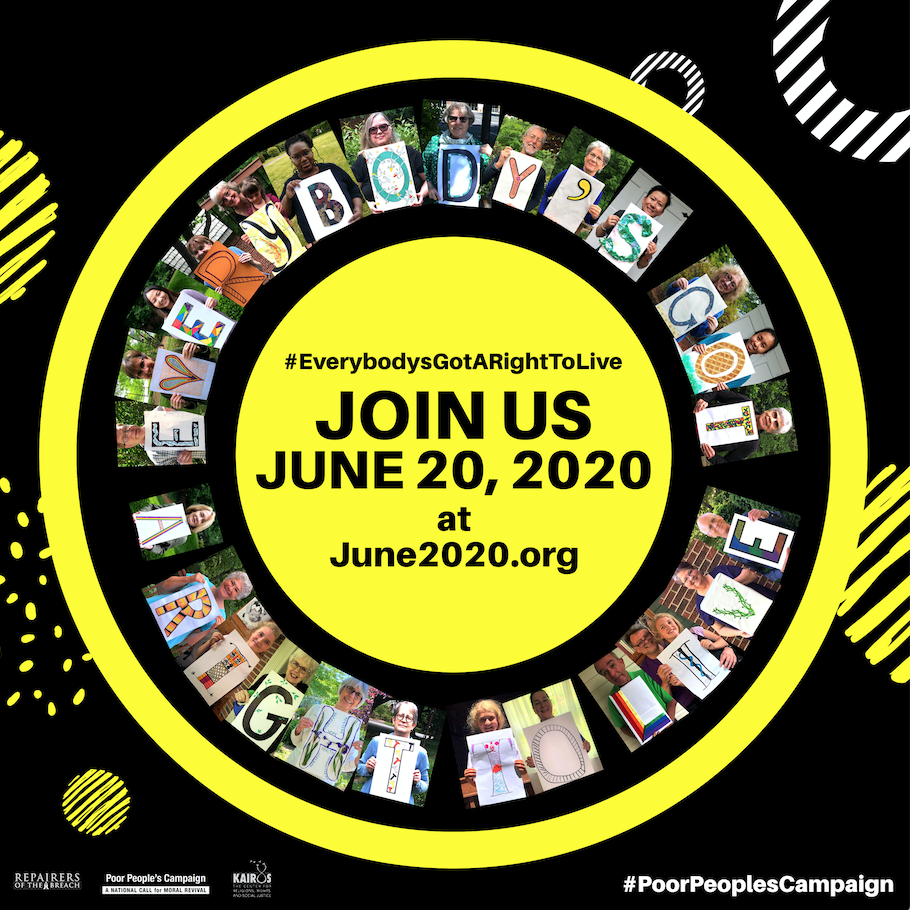 ---
We Won't Be Silent Anymore!
Somebody's Hurting My Brother has become a powerful acclamation of the Poor People's Campaign and has been sung across the country during days of action, mass meetings and truth and poverty tours. Written by Yara Allen, our Co-Director of Theomusicology and Movement Arts, this song was born in a town hall meeting in Stokes County, North Carolina. After hearing testimony after testimony after testimony of poor black, brown and poor white people impacted by ecological devastation, this song emerged as an inspiration of those testimonies.
We Won't Be Silent Virtual Art Build:
On June 8th we will hold a virtual art build at 12 PM ET. Click here to register and receive Zoom information!