We Are the Moral Resurrection!
The Poor People's Campaign: A National Call for Moral Revival, the Texas Poor People's Campaign and our partners invite you for a Georgetown-to-Austin Moral March for Democracy — with a final Rally at the Texas State Capitol on Saturday, July 31 @ 10am CT.
We demand Congress act now to stop attacks on democracy:
End the filibuster
Pass all provisions of the For the People Act
Fully restore the 1965 Voting Rights Act
Raise the federal minimum wage to $15/hr
Permanent protections, dignity & respect for all 11 million undocumented immigrants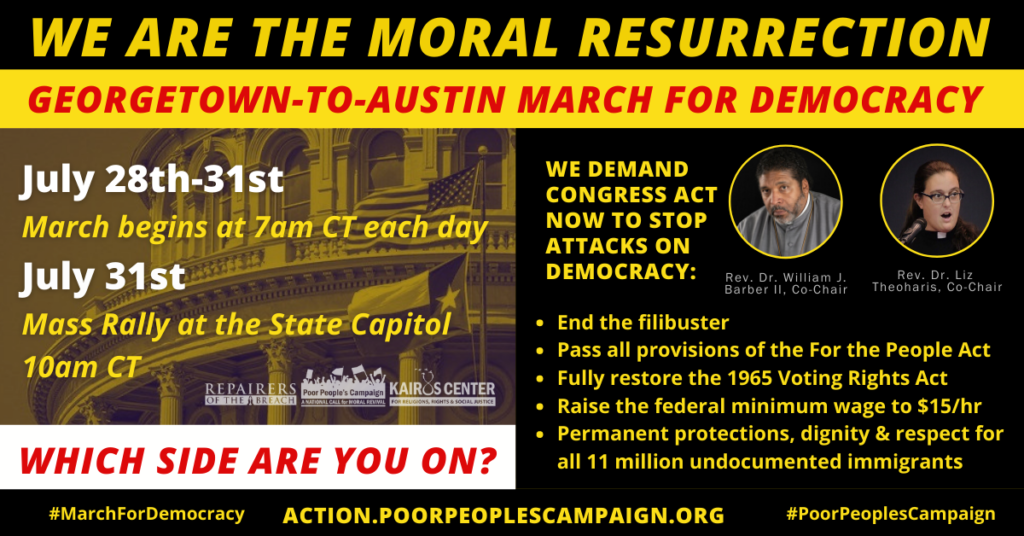 Watch this promo video to learn more:
Schedule of Events
July 21 @ 1pm CT – News Conference Announcing Georgetown-to-Austin March for Democracy
July 25 @ 4pm CT – Joint worship service at Community of Faith Church in Houston, TX with Greenleaf Christian Church and Friendship-West Baptist Church.
July 27 @ 6pm CT – Mass Meeting & Service: Launching the Georgetown-to-Austin Moral March for Democracy @ Christ Lutheran Church, 510 Luther Dr., Georgetown, TX
July 28-30 – March begins at 7am CT each morning and finishes for the day in the early afternoon
July 31 – 8am CT – Gather at AFL-CIO (1106 Lavaca Street)
9am CT – March begins to the State Capitol
10am CT – Mass rally at Texas State House south stairs
In the spirit of the Selma-to-Montgomery March of 1965, we are marching to send a message to Washington, D.C.: We demand the U.S. Senate and the White House act now to stop the attacks on our democracy. We want all of our rights, and we want them now! We must resist the extremist and monied powers that want to deny, abridge, and undermine all of our votes. The fight for voting rights and economic justice are one in the same. Join us for this historic march in Texas!
This march and rally is part of A Season of Nonviolent Moral Direct Action led by the Poor People's Campaign and dozens of partners. Go to action.poorpeoplescampaign.org for more information and updates.
The Texas Poor People's Campaign is working with these partners for the Georgetown-to-Austin March for Democracy. The list is growing every day!
Border Network for Human Rights/Reform Immigration for Texas Alliance, Black Voters Matter, Texas AFL-CIO, Workers Defense, Powered by People, Next Generation Action Network (NGAN), LUPE- La Union Del Pueblo Entero, Wilco Patriots, Nonviolent Austin, Personal Attendant Coalition of Texas/ADAPT of Texas, YWCA Greater Austin, Faith Forward Dallas, Friendship-West Baptist Church, Dallas, Community of Faith, Houston, Temple Beth Shalom, St. James' Episcopal Church, Austin, TX, Proyecto Santiago, Beta Psi Omega Chapter, Alpha Kappa Alpha Sorority, Inc, Clean Elections Texas, , Austin Airwaves, Texas Drought Project, ACT (Anti-racists Coming Together), Round Rock Black Parents Association, Interfaith Action of Central Texas, Wheeler Baptist Church, Houston, St. Andrew's Presbyterian Church, Austin, ELCA World Hunger & Bread for the World, San Gabriel Unitarian Universalist Fellowship of Georgetown, The Congregational Church of Austin, Coalition Against Pipelines, Pax Christi San Antonio, Unite Here Local 23, About Face: Veterans Against the War – South-Central Texas.
And these partners are supporting the National Season for Nonviolent Moral Direct Action
Service Employees International Union (SEIU), American Friends Service Committee (AFSC), UNITE HERE! Sunrise Movement, Indivisible, Center for Popular Democracy, Fight for $15, Samuel DeWitt Proctor Conference, Black Women's Agenda Inc., Center for Constitutional Rights, Christian Church (Disciples of Christ), Climate Crisis Policy, CodePink, Communications Workers of America (CWA), Delta Sigma Theta, Inc., Democracy Initiative, Domestic Workers United, Emily's List, Episcopal Church, Faith for Black Lives, For All, Forward Justice, Greenpeace USA, I.T.C. Student Christian League, Institute for Policy Studies, National Civil Rights Museum, National Welfare Rights Union, New Georgia Project, Pax Christi USA, Presbyterian Church – USA, Samuel DeWitt Proctor Conference, Rainbow Push Coalition, Red Letter Christians, Religious Action Center of Reform Judaism, Sadhana Hindus, Sisters of Mercy of the Americas, Sunrise Movement, Transformative Justice Coalition, Unitarian Universalist Association, United For Respect, Until Freedom!, Union for Reform Judaism, Women's March, Disciples Center for Public Witness, Disciples Justice Action Network (DJAN).
RSVP by filling out this form!