Michigan Poor People's Campaign took their demands to the Detroit home office of Senator Gary Peters on Monday, July 26th to ask the question "Which Side are you on?". Nearly 30 activists gathered outside the McNamara Federal Building for a Moral Monday press conference and delivery of the open letters. This was one event in a season of non-violent moral direct action to Save Our Democracy. In the open letter, activists demanded that Senator Gary Peters and Senator Debbie Stabenow:
End the filibuster
Pass all provisions of the For the People Act
Fully restore the 1965 Voting Rights Act
Raise the federal minimum wage to $15/hr
Michigan Poor People's Campaign members dramatized the communications (or lack of communications) with the Senators from Michigan. Senator Peters's staff made a formal statement on the morning of press conference, noting that "Senator Peters is working hard every day in the U.S. Senate to fight for the community and deliver results. Those efforts include pushing to pass legislation to protect voting rights, raise the minimum wage, and fight for families and our most vulnerable citizens." The Peters's team declined to comment on ending the filibuster, as there is no active legislation on the matter. Unfortunately, at the time of the press conference, there was no position statement from Senator Stabenow, and the silence was dramatized for onlookers. Find the recording here.
The press conference also featured special guests and speakers.   Two courageous women leaders who'd just returned from the July 19th Mass Women's March in Washington DC were in attendance,  Carolyn Baker and Marian Kramer.  Mrs. Kramer spoke of the encouragement and love generated by the gathering of women from across the country to stand up for Democracy.  She noted that there is a new energy in this new season of non-violent, moral direct action and that she was encourage to see a new generation of justice warriors step forward.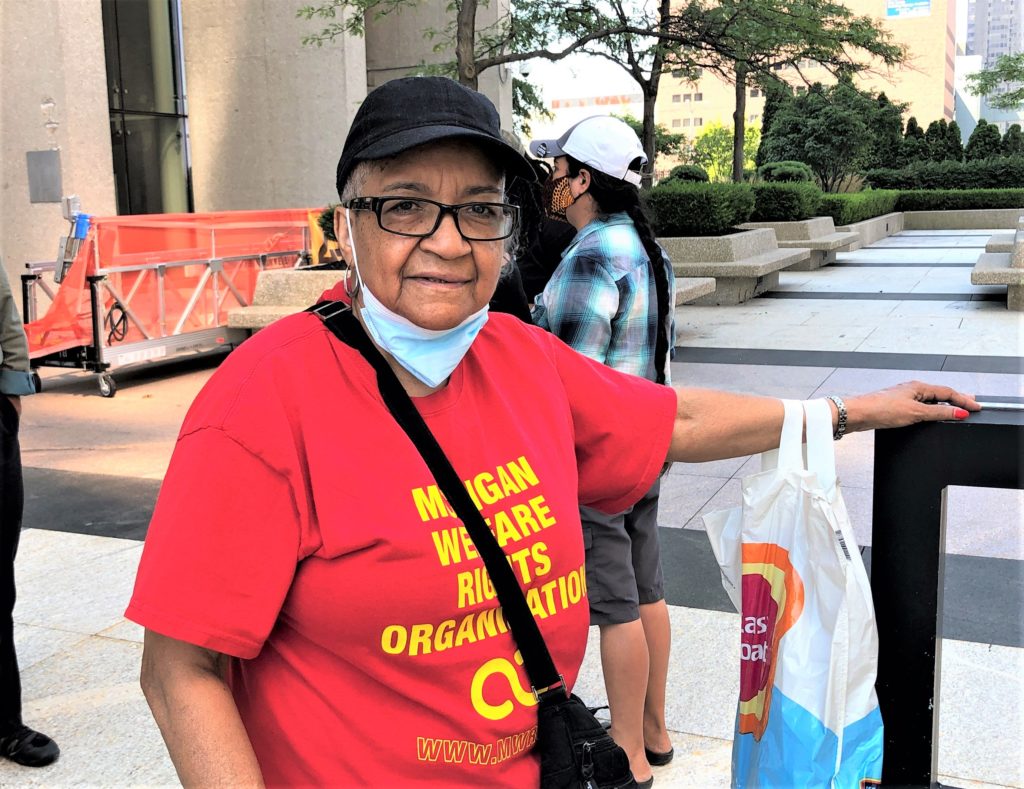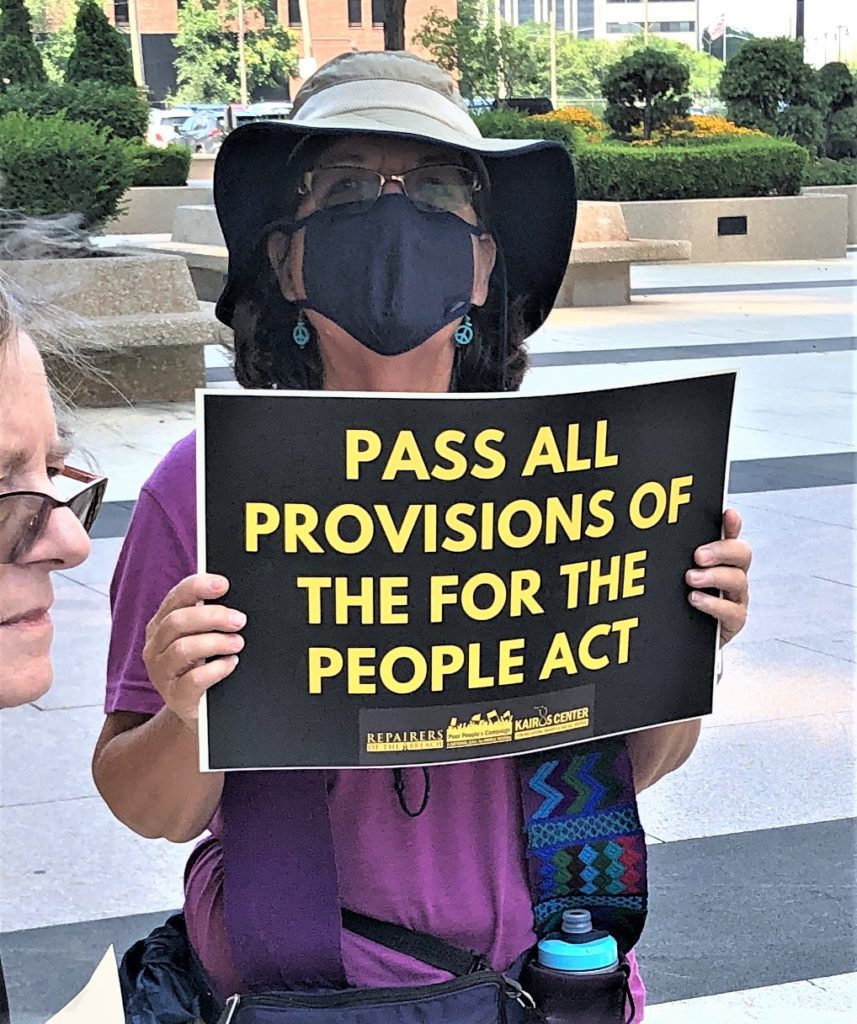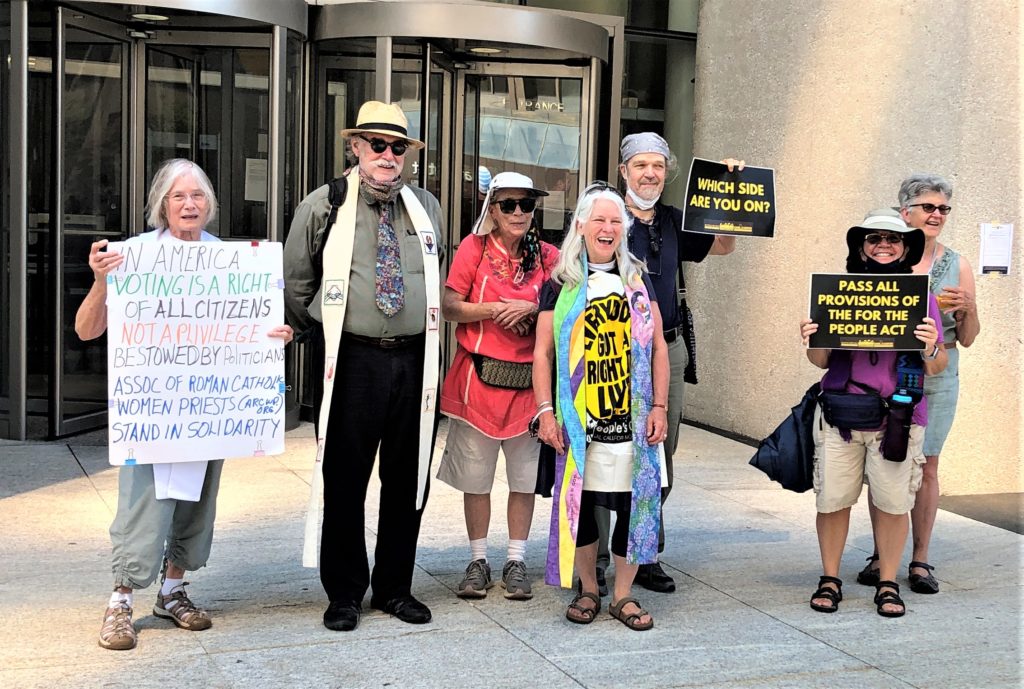 The next statement was given by Rev. Edward Pinkney of Benton Harbor, Michigan is a long-time community organizer. He detailed his work in 2014, leading a petition effort to recall the mayor of Benton Harbor. But in that process, Rev Pinkney was arrested, charged with election fraud, and eventually sentenced to up to 10 years in prison, despite a distinct lack of evidence. In 2018, after Rev. Pinkney spent months in jail, the Michigan Supreme Court ruled it should have never happened. With a six to zero vote the supreme court overturned his conviction. He continues to fight for justice in Benton Harbor. He urged the Campaign to continue to fight voter suppression and to educate one another.
Rev. Edward Pinkney of Benton Harbor chronicles voter suppression in Benton Harbor, Michigan and the urgent need to fight against it.
The Michigan Poor People's Campaign will not relent. A delegation from Michigan is organizing to travel to Washington DC on Monday, August 2nd, to continue non-violent moral direct action on the Nation's Stage. We want to see our demands realized in the form of passing legislation. We'll keep applying pressure in the form of non-violent moral direct action until voting justice and economic justice is restored in this nation.
Forward Together, Not One Step Back!