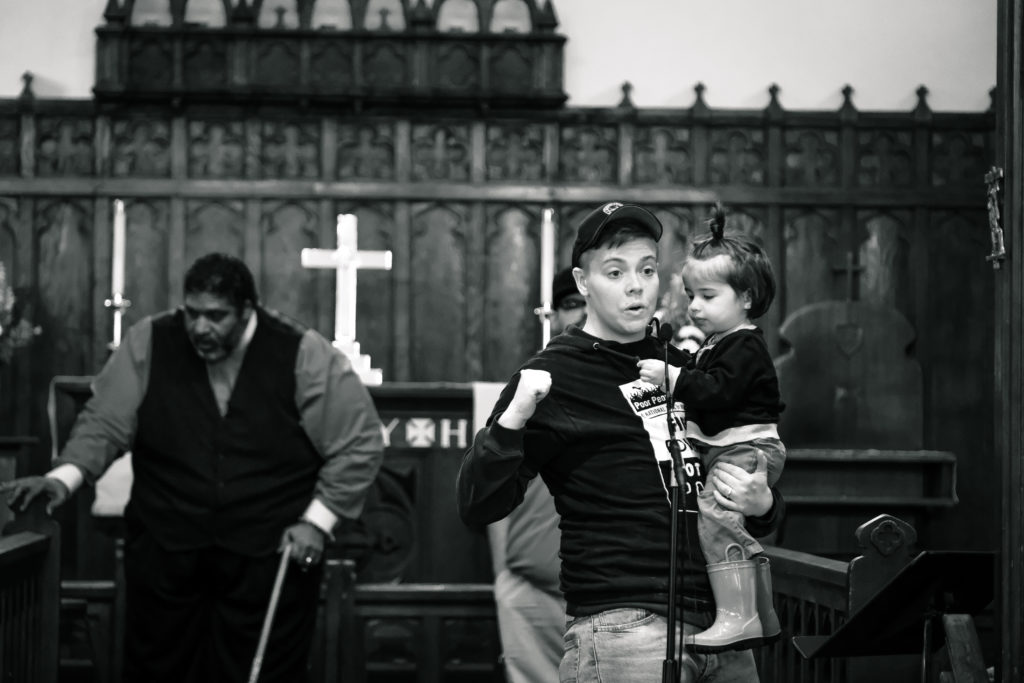 Aaron Scott, Co-Founder, Chaplains on the Harbor, Washington State Poor People's Campaign
The child of a pastor and a union worker, who grew up in a poor, rural area in Upstate NY, Aaron Scott found his calling when he became exposed to liberation theology while studying in El Salvador. Aaron decided to go to seminary to try to "figure out how to replicate that kind of theology in the U.S." and ended up working in a poor, rural county in Washington state and co-founding Chaplains on the Harbor, an organization that pastors, organizes and empowers the leadership of poor people, particularly those who are homeless and incarcerated. Aaron serves on the National Steering Committee of the Poor People's Campaign.
---
I grew up attending a very rural, poor church, this tiny place in the foothills of the Adirondack Mountains in Upstate NY. My family was working class. My mom left home at sixteen and when I was a kid she became really involved with her union, my grandma was a factory floor organizer (once interrogated by the feds on suspicion of communist activity), my grandpa was a veteran, and my dad was a pastor.
The church I grew up in was all poor people who kept each other alive and fed and warm through the winter. People's theology was super individualistic and hyper-focused on things like conservative teachings on human sexuality. From a young age I was like, "You all don't have heat in the winter! Is sex really your problem!?"
I left the church when I was a teenager. When I was in college I ended up getting a scholarship to study in El Salvador and got to live for a little while with communities that were just as rural and even poorer than the one that I had been raised in. It was there that I first studied liberation theology. The conditions were the same as the ones I had seen growing up, but the theology was completely different and it completely changed how people responded to their fight for survival.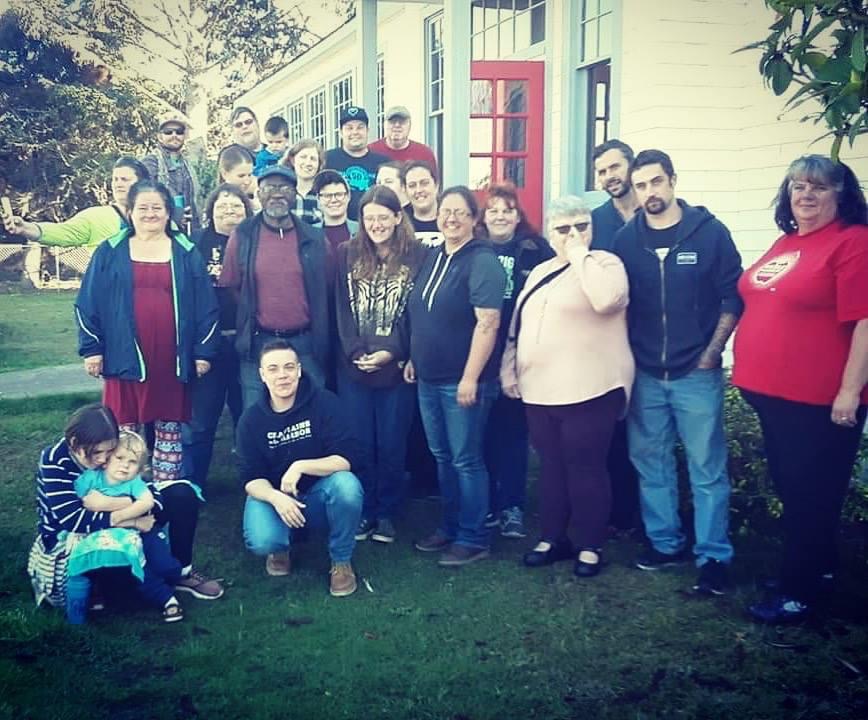 This made a lot of sense to me, so when I came back home I went to seminary at Union to try and figure out how to replicate that kind of theology in the U.S. That's where I met Willie Baptist and Rev. Dr. Liz Theoharis, in 2007, and they are absolutely the ones who put me on this path. I moved to the Northwest and I met Rev. Sarah Monroe when the two of us were in the ordination process in The Episcopal Church. Seven years ago we cofounded Chaplains on the Harbor in Grays Harbor County, a rural poor county on the coast of Washington State.
Grays Harbor County is very white, about 85%, but we are organizing with folks who are homeless and incarcerated, and because of systemic racism Native folks in particular are overrepresented on the streets and behind bars. Our base is about 500 people, with maybe up to twenty percent incarcerated at any given time.
Feeding people is a big anchor of our organizing — we run six feeding programs a week across the county and just acquired our own 23 acres to run a farm where we employ people from the community and produce emergency food. Before COVID-19 hit we made regular jail visits. And through this pandemic we still continue to communicate with our people inside by phone, email and letters. We also publish a prison newsletter called "The Holy Hustler" that circulates through every prison in the state.
Up through last year, the largest homeless encampment in the county used to be along the Chehalis River, near downtown Aberdeen. It's land categorized as ancestral fishing grounds under the Treaty of the Quinault Indian Nation, and it was on privately owned land until the city bought it with the specific intention of clearing out the more than a hundred unhoused people who were living there at one point. Of the 16,000 people in Aberdeen, 1,000 are homeless.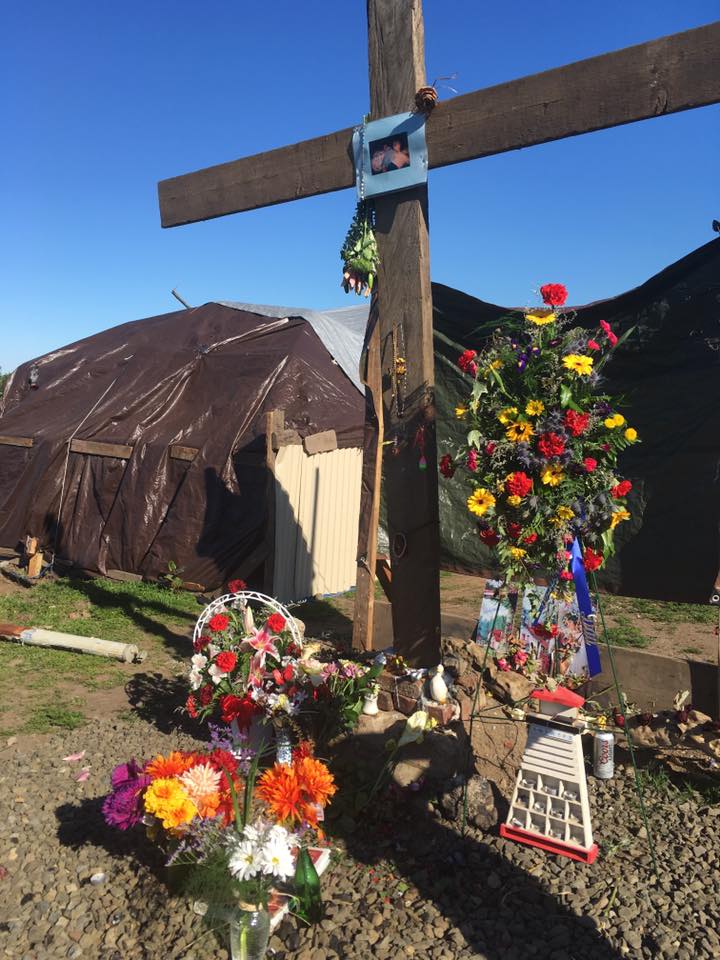 Prior to the sweep the city passed a series of restrictive ordinances that were basically attempts to push homeless people outside of the downtown core. These ordinances included things like, you can't sit down or lie down on the street anywhere downtown for longer than three minutes at a time, you can't pitch a tent anywhere in the city of Aberdeen — including in someone's backyard, you can't push your things around in a shopping cart — there was actually a crackdown on "illegal shopping carts." And they were hoping to ban any new social service agencies from opening offices downtown.
Once the city bought the land, they put up barbed wire fencing around two sides of it. They put in a vehicle blocking gate on the third side so that we could no longer drive in to check on people, deliver supplies or give people rides to the doctor. One time a young man had a medical crisis and his friends had to cart him about a quarter of a mile down the dirt road in a wheelbarrow to get him to our pastors truck so he could get to the hospital.
A hundred years ago the port of Aberdeen exported more raw lumber than any city on the face of the earth. So 100 years ago, this was a major resource extraction site that built the wealth of cities across the globe, and lined the pockets of a very small number of families here. When that industry packed up and went abroad, it was pretty much the entire economic base for the region and nothing has replaced it.
What we've seen instead has been the expansion of incarceration as industry, and a sharp rise in the drug economy. A couple of years ago Aberdeen was the opioid overdose capital in the state but there is no detox center here. There's not a lot of public incentive to spend money on poor people's healing and keeping the jails full generates revenue.
Millennials here were pretty much born into economic free fall, and have been hit hard by poverty, unemployment, and criminalization. But the dominant narrative is that if you work hard and make good choices, you won't struggle. You're expected to bootstrap your way out of addiction just as much as you're expected to bootstrap your way out of poverty — without any of the necessary components of healing and survival that make either one really possible.
The dominant narrative is that if you work hard and make good choices, you won't struggle. You're expected to bootstrap your way out of addiction just as much as you're expected to bootstrap your way out of poverty.
This region is also a place with a long history of organizing. This was ground zero for the IWW, the Wobblies, back in the heyday of the timber industry. And that movement was really brutally repressed not only by law enforcement, but also by vigilante violence. We have absolutely seen that in our organizing as well — there's a huge amount of vigilante violence against homeless folks. We have been threatened with it numerous times in public and during city council meetings.
In nearby Westport, where our church building is, we set up a small organized encampment on our property. The mayor called for public comment on this at a city council meeting, which ended up just being three hours of unchecked public threats against our staff, against our building, and against people who were sleeping there. One local business owner got up in front of City Council, the police chief and the mayor and said, "This town has a long history of vigilante violence and we know how to get things done here if city council doesn't do what we want… I'll pay anyone who's willing to help me 'take care of this problem.''' Somebody also threatened to fire bomb the church. There were two incidents right after that where a local vigilante-type came onto the church property and assaulted a nineteen year old homeless kid, then later tried to run him over with a truck.
Eventually we decided to just move everybody inside the church. And we kept doing it every year. We just finished our fourth season of providing shelter. This didn't start out as a politicized project for us, but it quickly became a project of survival.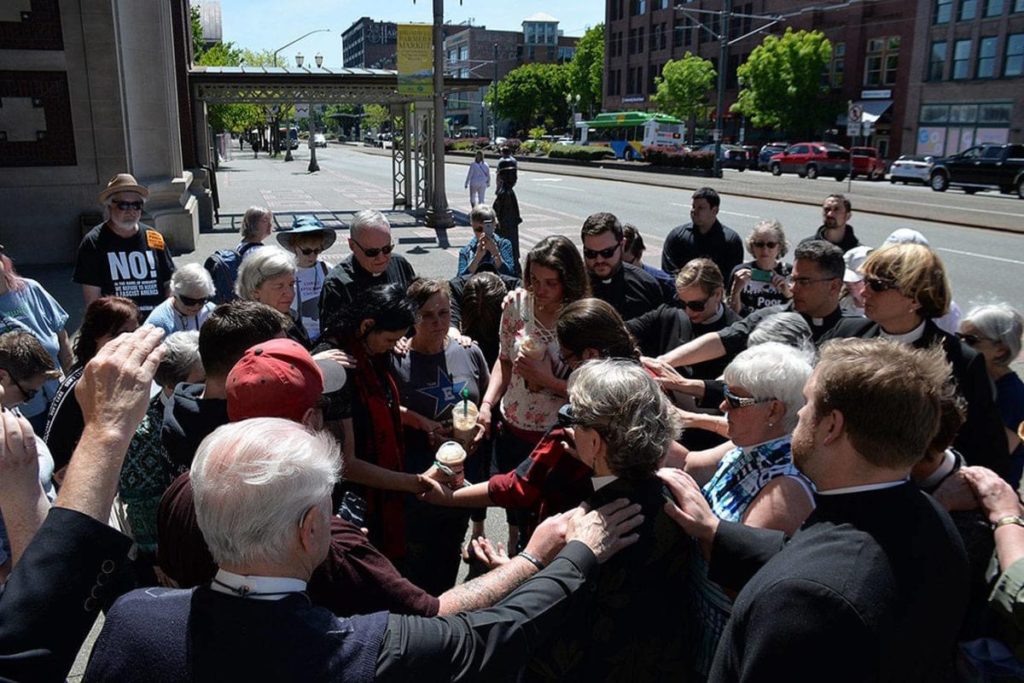 Back in Aberdeen, Rev. Sarah, standing as a co-plaintiff with several homeless folks in our community, has been involved in two federal lawsuits against the City for violating homeless people's constitutional and treaty rights through criminalization and displacement. The lawsuits themselves won some very short-term concessions but the biggest win, by far, was the incredible courage and leadership of the folks who stood up to assert their rights and dignity.
This is how a lot of our work seems to unfold. You do something that seems pretty damn basic, working as a community to meet basic human needs, and suddenly you're confronted with the whole hammer of state and economic violence. Our community starts to see the system a little more clearly as we move through each fight. We learn together, we study this shit together, and we get stronger each time.