The Poor People's Campaign: A National Call for Moral Revival is uniting people in Washington, D.C. to challenge the evils of systemic racism, poverty, the war economy, ecological devastation and the nation's distorted morality of religious nationalism. The Poor People's Campaign is non-partisan but deeply political.
Due to the current epidemic, all events will be held by phone/web unless otherwise indicated. Please keep checking our calendar and social media for updates.
Email washingtondc@poorpeoplescampaign.org to get involved!
Upcoming Events
National Faith Leaders Call
Monday, October 12th at 1:00pm Eastern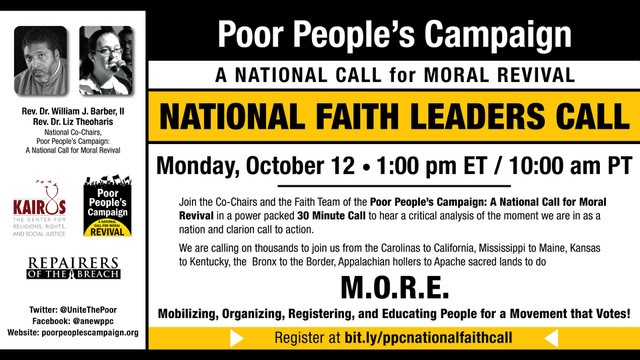 On Monday October 12th at 1pm ET/ 10am PT join Rev. Dr. William J. Barber, II and Rev. Dr. Liz Theoharis, Co-Chairs of the Poor People's Campaign: A National Call for Moral Revival for the National Faith Leaders Call – a power-packed 30-minute call to hear a critical analysis of the moment we are in as a nation and clarion call to action.
Register here to join.
---
REBROADCAST: Voting Power is Unleashed: A Moral Monday Mass Assembly
Monday, October 12th at 3:30pm and 9:00 PM Eastern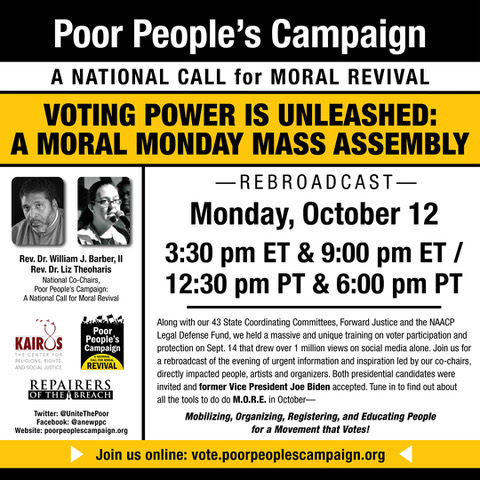 Along with our 43 State Coordinating Committees, Forward Justice and the NAACP Legal Defense Fund, we held a critical training on voter participation and protection on Sept. 14 that drew over 1 million views on social media alone.
Join us for a rebroadcast of the evening, led by our co-chairs, directly impacted people, artists and organizers. Both presidential candidates were invited and former Vice President Joe Biden accepted. Tune in to find out about all the tools to do MORE in October – Mobilizing, Organizing, Registering and Educating People for a Movement that votes!
*The rebroadcast is fully captioned and interpreted in ASL and Spanish.
Register here to join.
---
CONFERENCE: Moral Policy in a Time of Crisis
Friday and Saturday October 23rd-24th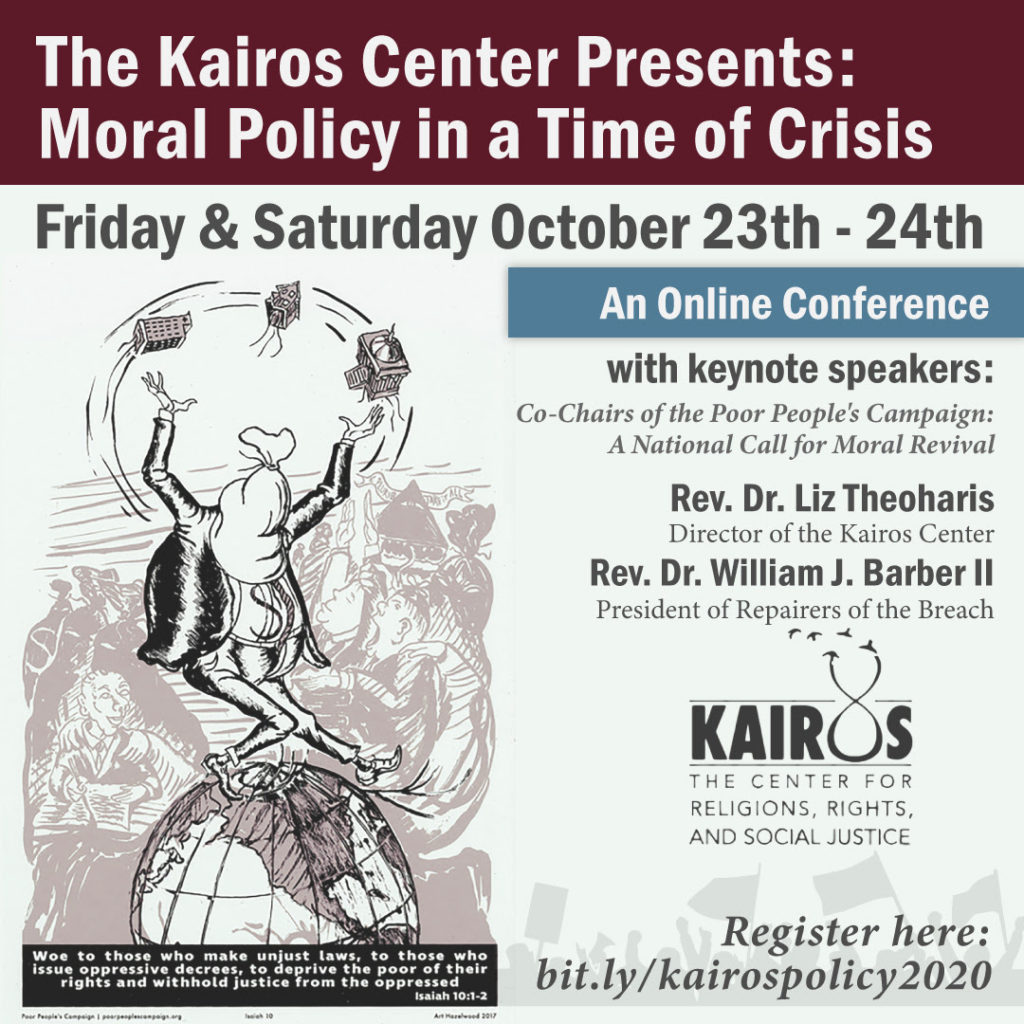 Save the date for October 23 – 24 when the Kairos Center presents Moral Policy in a Time of Crisis, an online conference that will look closely at the policy demands of the poor and dispossessed in this time of profound crisis.
We will hear from economists, historians, theologians, organizers, impacted people and others on the policies that brought us to this point, and how the Poor People's Jubilee Platform paves the way for the moral and economic reconstruction we so desperately need.
This is a free virtual conference, but all participants must register to attend.
Register here to join.