December 7 @ 7:21 pm

EST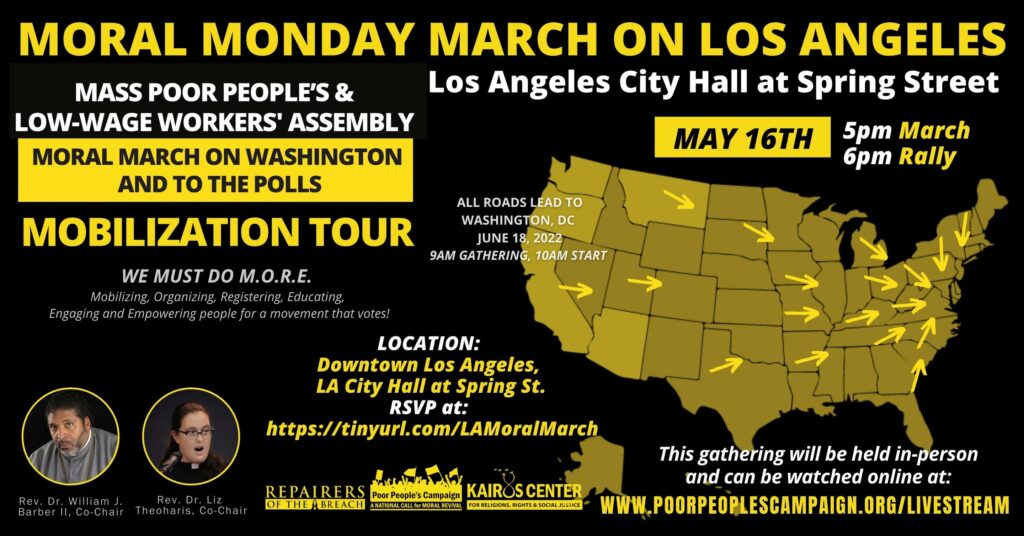 The Poor People's Campaign: A National Call for Moral Revival invites you to join poor and low-income, directly impacted people, faith leaders, and moral advocates from California, Arizona, Oregon, Utah and Washington for the The Mass Poor People's & Low-Wage Workers' Assembly and Moral March on Washington and to the Polls Mobilization Tour in person and online Monday May 16th. We'll be gathering at 4:30PM PT. The March will begin at 5pm PT and the Mass Assembly at 6pm.
The priorities and demands of poor and low-wealth Californians and neighbors will be front and center as we continue to demonstrate the voting and moral power of those most impacted by the policy violence of the US Congress and state houses. Somebody's hurting our people, and it's gone on far too long, and we WON'T BE SILENT ANYMORE!
The Mobilization Tour will make at least ten stops nationwide to do M.O.R.E.: Mobilize, Organize, Register and Educate people for a movement that votes as we move towards the Mass Poor People's & Low-Wage Workers' Assembly and Moral March on Washington and to the Polls on June 18, 2022.
They will be joined by faith leaders and artists to demand this nation do MORE to live up to its possibilities:
MORE to fully address the interlocking injustices of systemic racism, poverty, ecological devastation and the denial of health care, militarism and the war economy, and the false moral narrative of religious nationalism.
MORE to change the narrative and build the power of those most impacted by these injustices.
MORE to realize a 3rd Reconstruction agenda that can build this country from the bottom up and realize the nation we have yet to be.
Footage from the March:
Footage from the Rally:
Arizona PPC is looking for volunteers to help CA-PPC plan this event.
CA-PPC meets every Thursday at 6 PM VIA ZOOM for planning efforts.
If available, pls contact Greg at [email protected].
california [at] poorpeoplescampaign.org
Events Search and Views Navigation
This event has passed.
No matching events listed under Arizona. Please try viewing the full calendar for a complete list of events.
Calendar of Events
Calendar of Events

| Monday | Tuesday | Wednesday | Thursday | Friday | Saturday | Sunday |
| --- | --- | --- | --- | --- | --- | --- |
| | | | | | | |
| | | | | | | |
| | | | | | | |
| | | | | | | |
| | | | | | | |