December 4 @ 11:53 pm

EST
🚨5/21/22 UPDATE🚨
*
DEADLINE for TRAVEL SCHOLARSHIPS is MONDAY-5/23 at 5pmCST! Read below for more info on how to get help!
*
Dear Movement Makers and Justice Seekers,
EVERYONE is welcome to join us in DC to nonviolently make the voices heard of the 140 MILLION+ people who live in poverty and low-wealth! This will be a generationally transformative and disruptive gathering of poor and low-wealth people, state leaders, faith communities, moral allies, unions, and partnering organizations!
🚨TRAVEL GRANTS for FREE bus rides: 1st priority goes to poor and low-wealth people! However, if you need financial assistance, we'll help as long as grant money remains available! The free rides and promo codes are intended for anyone who is committed to this movement, and committed to getting on the bus!
🚨TRAVEL GRANT PROMO CODES: Must be used by 5pmCST on Monday (5/23)! So, if you are going to Washington, DC and need the TRAVE GRANT, please immediately take these steps:
1.RSVP on https://www.poorpeoplescampaign.org/june18/ that you are attending 6/18!
2. EMAIL or CALL Vivian Henry (Tri-Chair + Social Media Editor) to inform that you need the TRAVEL DISCOUNT! Please CALL or EMAIL by Monday 5/23 at 5pmCST!
CELL: 612-412-0375
EMAIL: [email protected]
You're information will be taken down, and the PROMO CODE for the travel grant will be applied to book you for a bus ride!
FOR MORE INFO, please go to our Facebook page: https://www.facebook.com/photo?fbid=348498040717556&set=a.2959507930964335
GET ON THE BUS TO DC, WITH THE MNPPC!🚌
Forward together. Not One Step Back,
Your MN Poor People's Campaign Coordinating Team
Vivian, Kim, T. Michael + Daniel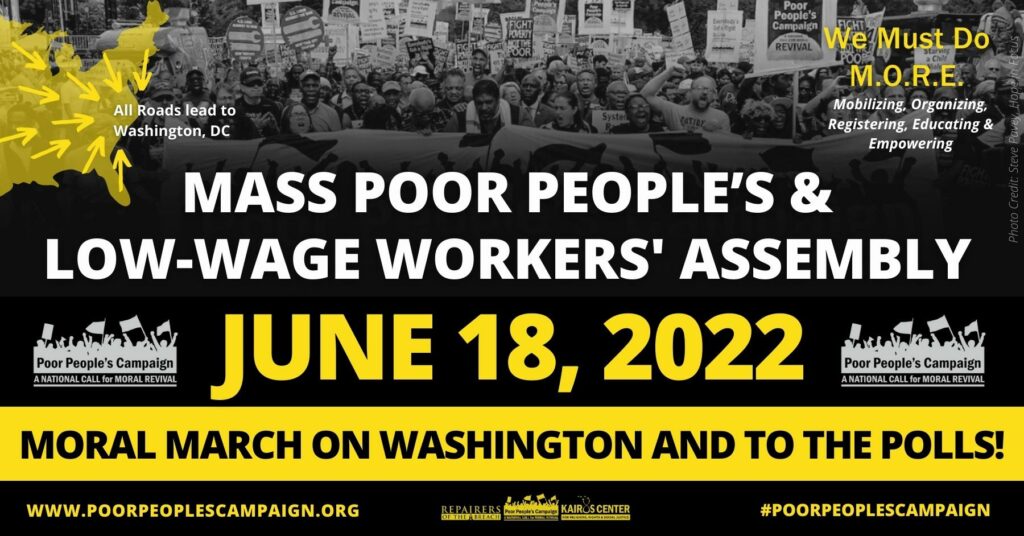 Events Search and Views Navigation
This event has passed.
No matching events listed under Minnesota. Please try viewing the full calendar for a complete list of events.
Calendar of Events
Calendar of Events

| Monday | Tuesday | Wednesday | Thursday | Friday | Saturday | Sunday |
| --- | --- | --- | --- | --- | --- | --- |
| | | | | | | |
| | | | | | | |
| | | | | | | |
| | | | | | | |
| | | | | | | |