The Poor People's Campaign: A National Call for Moral Revival holds news conference to present new data about how the Biden plan -- which polls show is enormously popular in West Virginia -- benefits poor and working people, children and the environment specifically in Manchin's home state.

Faith leaders, including the co-chairs, Rev. Dr. William J. Barber II and Rev. Dr. Liz Theoharis, and poor and low-income people will then discuss the immorality of Manchin's proposal, which hurts the same people that the Biden plan helps. ...
Play
What kind of human ignores human need and protects billionaires and corporations?
Hello from Tucso, Arizona United Steel Workers 937 ✊🏾✊🏾✊🏾✊🏾✊🏾✊🏾
Manchin is short for Manchurian
Thank you Rev. William J. Barber, II
We've already compromised $4 billion to get this piece of garbage on board. He keeps moving the goalposts.
Same story with DNCC in VA. No Progressives can win against Warner and Kaine because all financial support goes to members of the corporate-owned old political club.
Corporate -owned Democrats support only other corporate Democrats. Look how DNCC and REPUBLICANS shut Nina Turner's out n her primary and supported someone who'll do the will of corporate donors before The People
USA left England because of unfairness of those in power. How can you treat us like our Forefathers left England to build America for. America IS BETTER THAN BEING THE MONSTER THAT WE ORIGINALLY LEFT ENGLAND FOR ...& THE REASON WE HAVE OUR CONSTITUTION & BILL OF RIGHTS..
I wake up during the night thinking about the twisted situation we're in. That 1 or 2 Senators can hold up progress for the ENTIRE Country shows a lack of leadership skin in the game. Biden goes back to his old home in PA and reminisces while he should be blasting those Senators IN WV, IN AZ! This President is no FDR. He never intended progressive actions. They were merely election lies. Obviously.
we deserve this for allowing ourselves to be suckers for 40 years, that's why Manchin and Biden don't take anyone seriously, they have been having their knees on our necks for 40 years, mass incarceration and paramilitary equipment and school to prison pipeline was expanded with Biden's and Clinton's blessings
family legacy do not transfer Manchin, you must open your eyes and realize each legislator must be judged by their own actions, hold everyone accountable, Biden still support the 1994 Crimes Bill but older black folks voted for him nonetheless, stop voting against your best interests and we must get our electoral politics IQ higher and common sense isn't common, stop voting for jim crow democrats
takeing 10 billion from schools and giving it to military already 760 billion budget is economic treason and terror and meanwhile Howard U students are fighting to get mildew and rats out of their schools and alumnus VP Kamala Harris can't be found and her bother in law is Uber exec that help kill Cali prop 22 that would have unionize Uber and Lyft drivers and Kamala has former Black Rock employees working with her to buy up eviction properties nationwide and this is the same black token VP that told immigrants not to present themselves personally at the Border and stay home don't come here while we sow unrest and take resources from their country and prop up puppet dictators and drop drones on them and the border patrol agents are domestic agents of terror and they are sexually assaulting women and kids and isn't October the month of domestic abuse awareness.
Horrific the Way Haitians are being treated... Afghanistan got 63Billion when all the Haitians got was 600 Border PATROLS on horseback & whips..
All world suppr power american army Afghanistan winar 20 years
American army man vs american army girls afganstan hhhhhhh hhhhhh
Hello from Tucson, Arizona United Steel Workers 937
Biden is lesser of the two evils vs Trumpbut look at how he is protecting line 3, still refuse to cancel student debt, still refuse to fire Louis DeJoy, still refuse to support ending qualified immunity, still refuse to push to abolish death penalty, still refuse to expand SCOTUS, still refuse to protect 1st nations, still refuse to defund military and police budgets, still refuse to stop abusing black immigrants and Haitians in particular, still refuse to stop enforcing Trump immigration Title 42
Blacked com director Biden president America
American army heavy machine guns and new tanks lazear guns bulletproof uniforms Afghanistan winar
Thank you for your work, keep doing it, 🙏🏽🙏🏽🙏🏽 for a true change
Load more
Coming up tonight at 10:40pm ET @RevDrBarber joins @TheLastWord on @MSNBC w/ guest host @AliVelshi to discuss this Sunday's Mass Moral Revival & Rally at the West Virginia State Capitol w/ @WestVirginiaPPC & the #PoorPeoplesCampaign! Watch:

The Last Word with Lawrence O'Donnell | MSNBC The Last Word
More about The Last Word on MSNBC. Join The Last Word Lawrence O Donnell community for more news, videos and articles about politics & global change.
www.msnbc.com
WATCH: #FreedomFridays Vigil at NC Governor's Mansion Demanding Pardon for Dontae Sharpe
Poor People's Campaign
WATCH: #FreedomFridays Vigil at NC Governor's Mansion Demanding Pardon for Dontae Sharpe
twitter.com
WATCH: Apache Stronghold Bay Area Press Conference Following 9th Circuit Court Hearing! #ProtectOakFlat
Poor People's Campaign
WATCH: Apache Stronghold Bay Area Press Conference Following 9th Circuit Court Hearing! #ProtectOakFlat
twitter.com
We will be going back to Charleston, WV, this Sunday 10/24 for a Mass Moral Revival & Rally at the state capitol. Join us online or in person! #PoorPeoplesCampaign #ForwardTogether
https://twitter.com/RevDrBarber/status/1450825387991261193?s=20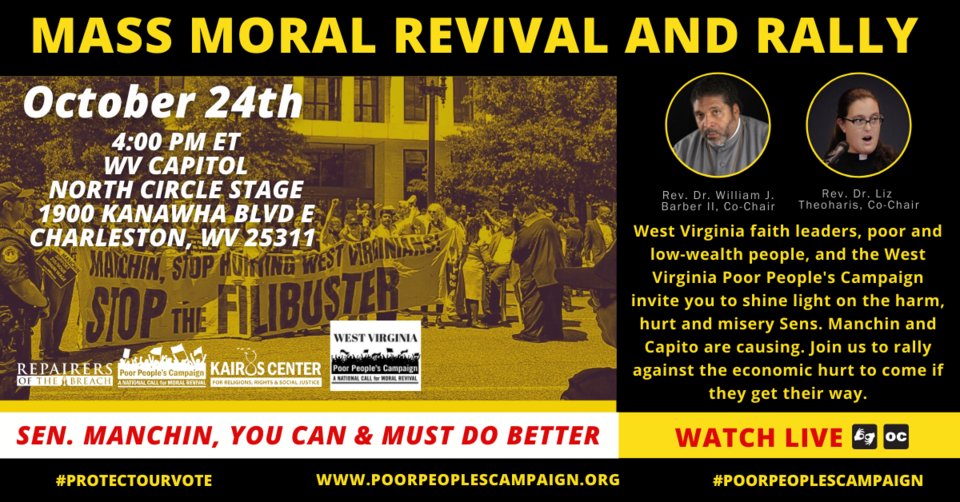 Rev. Dr. William J. Barber II
@RevDrBarber
Join us Sunday 10/24 at 4pm ET in Charleston, WV, for a Mass Moral Revival & Rally in person at the WV state capitol (or online) to say: Sen. Manchin, your plan to cut the BBB plan to $1.5T will negatively impact thousands in WV. You can & must do better! #PoorPeoplesCampaign
We've been asking President Biden to sit down and meet with poor and low-income leaders from the #PoorPeoplesCampaign. Let impacted people sit in the Oval Office. They're their own lobbyists, because they can't afford lobbyists. I'll break every schedule I can for that to happen.
Twitter feed video.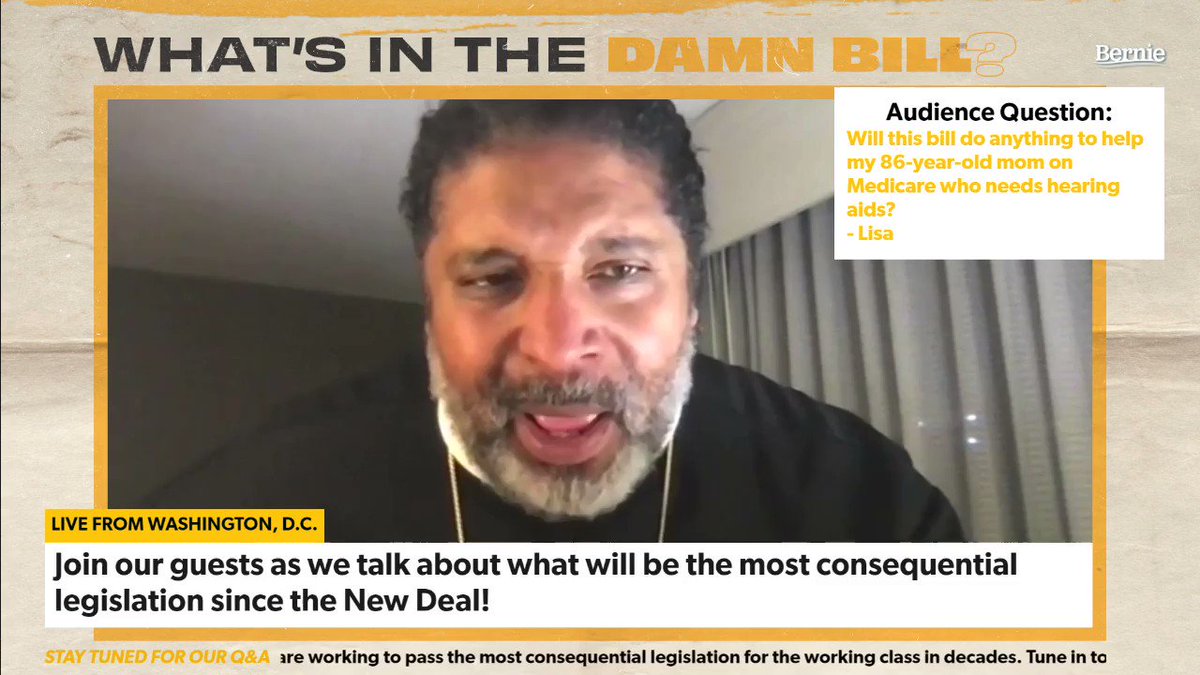 Load More...